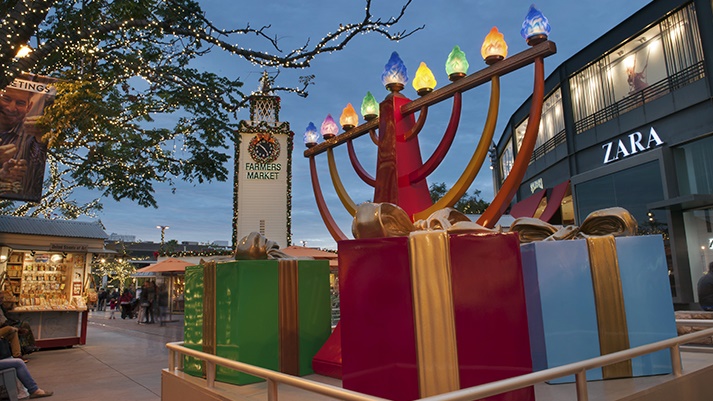 What to Know
Sunday, Dec. 17
Free
2:30 to 4:30 p.m.
Those private expressions of the season, the domestic traditions, the intra-family happenings that we participate in each and every year?
They're treasured moments for people throughout Southern California, absolutely. But there are some public must-dos, the community events that only happen once a year and very much serve to cement the tenets of a holiday in our heart, but in a bigger setting than our den or living room.
One such bond-strengthening event, as in the bonds that connect us to those we live near but don't know, occurs at the Original Farmers Market each year. It happens near the Plaza area, by the famous clocktower, the one that's over Taschen Books, and it involves... LEGO bricks.
The Scene
What to do, where to go and what to see
As in many, many LEGO bricks, which is what it takes to build a truly big menorah. You can lend your LEGO skills, and your menorah-based know-how, on Sunday, Dec. 17 when the annual Chanukah Fun & Menorah Lighting Celebration returns to the beloved food-and-more spread at Third & Fairfax.
The hours are 2:30 to 5 p.m., and beyond participating in the building of the LEGO menorah? There's plenty to do and see, from Chanukah Pajamikah with Doda Mollie to the lighting ceremony at the close of the festivities.
That happens right at 5, while the crafty, LEGO-wielding portion of the day will fill up the first two hours of the event.
And, of course, gelt, latkes, dreidel-themed treats, and other traditional sweets of the season may be found for purchase inside the stall-packed market.
Chanukah yummies are there to be savored, too, as are arts & crafts themed to the Festival of Lights.
It's all free to join, and one of those community-cool expressions of the holiday that uplift the spirit and seasonal outlook. Ever helped build a LEGO-filled menorah with a bunch of brand-new friends?
Your chance is just ahead, on Dec. 17, at the Original Farmers Market.
Copyright FREEL - NBC Local Media