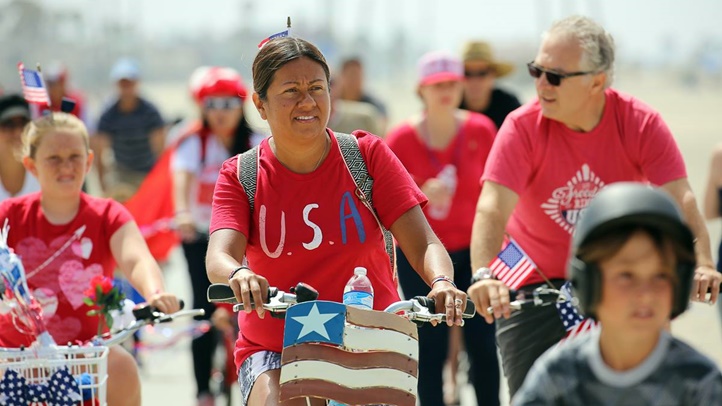 Fourth of July fireworks may thrill you, down to your sandal-clad toes.
You adore the sparkles that go up, up, up, quickly, before fizzing in a glittery amorphous blob. You like the circular pyrotechnics, the fireworks that seems so perfectly round it's as if someone placed a cup on the sky and drew a perfect circle around the rim.
As for those fireworks that shimmer in red, white, and blue? It's like an illuminated Sousa march writ large across the stars.
The Scene
What to do, where to go and what to see
But sometimes a boomy night show isn't your jam, or, rather, you'd like to fold a few Independence Days to-dos into your schedule that are of the daytime (with one exception), fireworks-free assortment.
If this is your #current mood, then check out what's happening around Southern California this holiday weekend, and note that a few of the picks do happen before the Fourth of July, like...
Clifton's Canteen: Perhaps you've claimed before that you were born in the wrong decade. Perhaps you adore '40s tunes, and wish you could return, for a minute, to a USO-style canteen to hear singers perform live. You can, on Sunday, July 2, at the downtown cafeteria. If you have something with shoulder pads, or seamed stockings, wear it and get into the literal swing of things. Note: This is a ticketed event and it is in the evening.
The Great American 4K Run/Walk & Bike Parade: It's a sweet Long Beach tradition, one that happens on the morning of July 4, and it involves a caboodle of kids cycling along while showing off their patriotic colors (both on the bike and as part of their outfit, too). Adults join in the bike fun, and the run, and it all happens at 10 a.m. on the Fourth of July at 1 Granada Avenue.
Will Geer's Theatricum Botanicum: Don't fret that the holiday may pass you by without the opportunity to participate in nostalgic pursuits like water-balloon tossing, the throwing of horseshoes, and pie-eating contests; this Topanga gem has you covered. There's a cake walk, too, hooray, and, a barn dance to boot (again, literally). In fact, that's the name of the event: The 4th of July Family Barn Dance. And it happens on July 4, too.
The International Printing Museum: You may not have the phone numbers for Benjamin Franklin, Thomas Jefferson, or John Adams, nor can you figure out how to @ them, but no worries: They'll be stopping by this Carson destination for an afternoon of historical revelries, courtesy of The Confounding Brothers. There are three July 1 performances, and tickets are still available for the 1 p.m. and the 3 o'clock.
Pink's Hot Dogs and the Four Seasons Hotel Los Angeles at Beverly Hills: The stylish stay-over spot is inviting the iconic hot-doggery to its Windows Lounge for two days of delicious hot dog toppery in a "festive, patriotic-themed setting." The dates for this salute to Pink's and this holiday fun time? Mark Saturday, July 1 and Sunday, July 2 on the calendar. As if you need more reason to go, there's an ice cream station and an apple pie station in the works, too.
Copyright FREEL - NBC Local Media