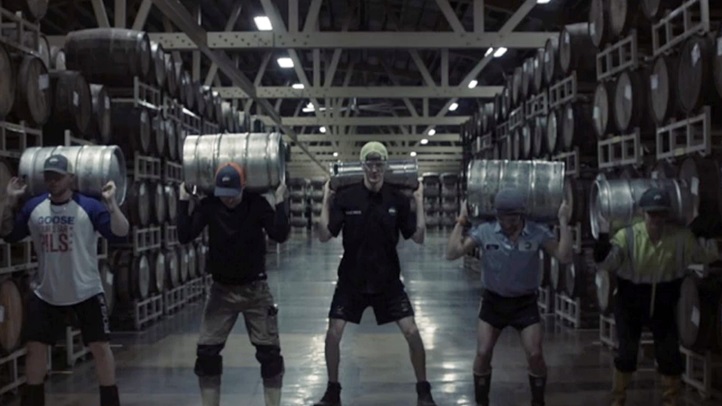 You may have never hoisted a bag groaning with malt grain onto a high shelf, but if you've seen someone else do so, perhaps on a brewery tour, you could instantly grok that moving bag of grain, all day long, might be akin to doing some very impressive weight lifts.
The LA Craft Beer Crawl is going to explore the meeting point between what a beermaker does and what goes into a quality exercise session at the Brewer's Workout, a fundraising event happening a few hours ahead of the annual downtown stroll-and-sip-suds festival.
The date is Saturday, Aug. 13, and you'll absolutely want to arrive in your comfies, as you may be engaging in some squats or stretches as you participate in a "fitness regimen designed around the day to day life of a brewer."
The Scene
What to do, where to go and what to see
Alex's Lemonade Stand Foundation for Childhood Cancer is the beneficiary of the morningtime event, which costs ten dollars to join.
Will there be personal trainers on hand to guide you through the lifting of six-packs and squats that are made even more challenging by the presence of a malt grain bag? There shall be.
Will you get to revel in what might be the most unusual group exercise sesh you've ever participated in with something chilled and foamy at the end? You'll want to relive those malt grain squats, so yes. How better to do so than over a glass of craft beer?
The two-hour happening kicks off at 10 a.m. at 1201 S. Grand Avenue, Suite B, and you got it: You must be 21 to join. And nope, you won't be squatting/pumping for the full 120 minutes; the second hour is reserved for quaffing and noshing, the better to get some calories after a sweat-inducing hour of brewer-style strengthening.
As for the crawl itself, which is heading into its 7th annual go-around (with 7 bars and restaurants on the map)? That happens from 3 to 7 at various downtown venues, so you have time to head home for a shower first.
Goose Island Beer Co. and 213 Nightlife are the co-presenters of the Brewer's Workout — take a peek at what'll go down now...
Copyright FREEL - NBC Local Media