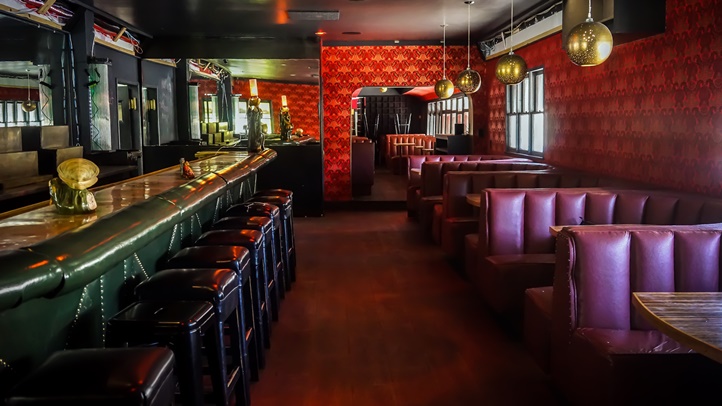 It isn't often that the public is invited to visit a currently-closed venue.
And we're not typically invited to such a venue several months ahead of when the under-renovation space is scheduled to again welcomes guests.
But the Formosa Café, the built-in-1925 hot spot on Santa Monica Boulevard in West Hollywood, is a starry and rare stand-out among vintage Southern California restaurants. It's a place, in short, that possesses more than a little Tinseltown magic.
The Scene
What to do, where to go and what to see
Meaning this: The public will be able to peek inside the legendary, still-under-refurbishment hangout, which has cameo'd in movies like "L.A. Confidential," on Saturday, Oct. 7.
A few fast details, though, as to why this rare chance came about.
When it suddenly closed at the end of 2016, Formosa fans fretted, but the nightlife-loving 1933 Group stepped in to save the spot and return it to its sumptuously appointed, red-wall'd, green-neon'd glory.
The stepping in, though, on behalf of the famous location isn't done, and this is where you come in, via VoteYourMainStreet.org from Partners in Preservation.
The organization? It's "...an initiative created by the National Trust for Historic Preservation and American Express to engage the public in preserving and increasing awareness of America's historic places and their role in sustaining local communities."
VoteYourMainStreet.org spotlights a host of preservation projects needing some love, and cash, around the country each year, and the Formosa Café made the 2017 voting list, along with 24 other cities and/or locations.
So it is up to fans to now vote for the Formosa to receive a $150,000 grant, which "...will be used to restore the oldest part of the Formosa Café building, its iconic red car trolley."
Voting is on now through Tuesday, Oct. 31.
To celebrate the vote, and to spread the Formosa-fabulous love, there's a Formosa Café Open House on Oct. 7, and the first 200 people to show will be able to look inside, all while learning the history of one of the glamorous go-tos of Hollywood's Golden Age.
Eats, giveaways, tours, and speakers all festoon the special event.
For details on the open house, and supporting the Formosa in VoteYourMainStreet.org, unhand that Formosa-inspired mai tai, and your treasured Lana Turner autograph, and read more.
Copyright FREEL - NBC Local Media