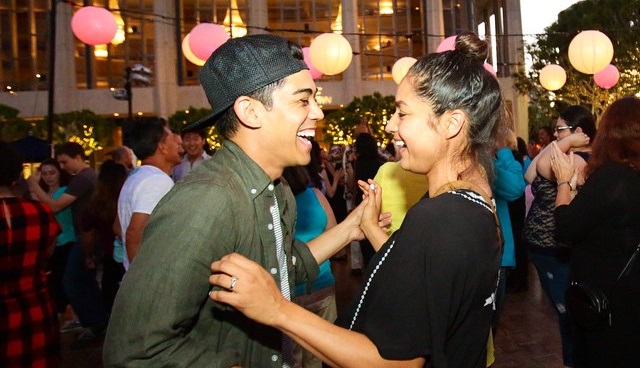 One 100% true fact about dancing? Regardless of style or method, it's always on the move.
Whether that movement involves a subtle hip flick, or a few jaunty steps to the left, or a lavish, toes-pointed twirl, is up to the dancer. But the whole spirit of the pastime is about flow, flux, and motion.
So it's not really a surprise to see an entire dance-oriented enterprise, one that's been associated with a single spot for a number of years, get up and samba away from that spot to a new location. That the fresh dance floor is just across the street will make it easier for longtime fans returning to join the fun.
The Scene
What to do, where to go and what to see
It's Dance DTLA we're tap-tap-tapping around here, the every-other-Friday-night summer series that gets a whole swath of raise-the-roof Southern Californians out on the dance floor.
That dance floor has long been Music Center Plaza, but for the 2017 run, all events will sway just a minute away, in Grand Park.
As always, this thing is beautifully, save-your-cash, do-a-jig free. Free as dancing is free.
Night one is on Friday, June 23, and will feature the rhythms of cumbia. The final evening of the run? That's the Friday before Labor Day, Sept. 1, and salsa is the star.
There's something on every Friday night between those two dates, with some Fridays taking on tunes themed to a specific genre — line dancing or disco, for example — and some Fridays focused on DJ-style spins.
Those are the DJ Nights, which will alternate with the Dance DTLA events, so check out the whole roster to make sure you're there to catch your favorite sounds or behind-the-turntables star.
A good thing to keep in mind? The classic moves will be illustrated by an instructor at the lead, as is tradition with Dance Downtown, if you encounter a style you don't know much about (but are game to try).
And as for the vittles and cocktails end of the have-fun spectrum? Those will both be for sale at Grand Park.
So prepare to sashay your way from the former location of Dance DTLA, Music Center Plaza, to Grand Park, across Grand Avenue, where all of the Dance DTLA and DJ Nights events will shake it over the course of the summer of '17.
Copyright FREEL - NBC Local Media