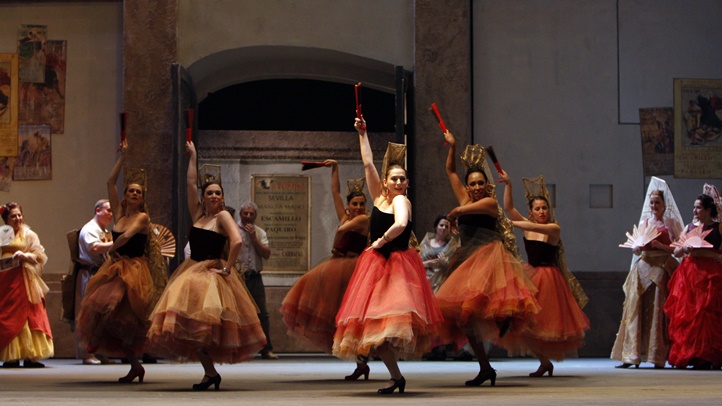 Neighbors being up on what other neighbors are up to?
If this isn't exactly the lifeblood of a classic opera story, it does serve as a common running theme.
Opera characters who reside in a castle, or a village, or simply close to one other, are often portrayed as being entangled, enmeshed, or somehow involved in another nearby character's romance, machinations, or plot.
The Scene
What to do, where to go and what to see
It makes sense, for even the opera houses holding these operas have real-world neighbors.
And while Los Angeles Opera's longtime home at the Dorothy Chandler Pavilion isn't exactly next door to Union Station, calling these two landmarks "neighbors" feels right, as there's only a six-minute drive between the two, and an even shorter Metro ride (Civic Center/Grand Park station is just a block from the pavilion).
That distance will seem far shorter on Thursday, Aug. 31 when the LA Opera's upcoming production of "Carmen" visits the landmark train station for a free presentation.
The hours of the lush, vocal-soaring, flamenco-majestic performance? As bustling and rush-hour-y as they come: 5 to 7 p.m., which means that plenty of disembarking commuters will be treated to a surprise aria or two.
Singers from the LA Opera's Domingo-Colburn-Stein Young Artists Program will bring the celebrated arias of George Bizet's classic to life in Union Station's Historic Ticketing Hall, while flamenco dance and the lilting melodies of Spanish guitar further enhance that you're-in-Seville aura.
No reservations are needed to enjoy this pay-nothing evening of artistry, a "first look" at the love-swirled, drama-deep opera, which opens at the Dorothy Chandler on Saturday, Sept. 9.
Metro Art, which has presented a number of free to-dos at the station this summer, is the LA Opera's partner on the performance.
As for whether Union Station and the Dorothy Chandler Pavilion could ever star in an opera of their own, seeing as how they're fabled neighbors with notable history in a great city?
There are surely a few arias there for an imaginative librettist.
And stay tuned, opera buffs, for "Carmen" will soon cameo near the surf via a free, live broadcast. It's called Opera at the Beach, and it hits a high note on Saturday, Sept. 23 at Santa Monica Pier.
Copyright FREEL - NBC Local Media