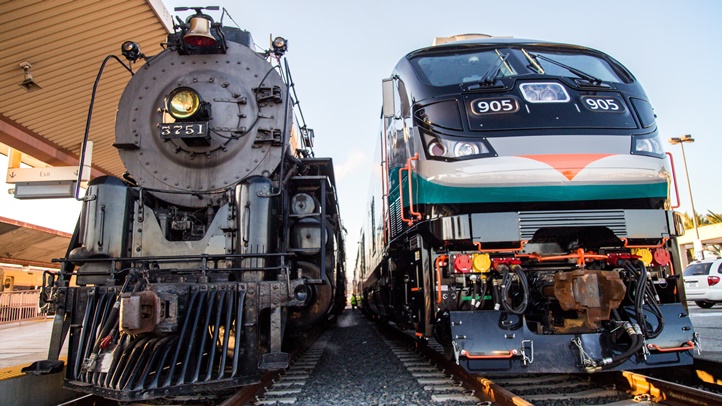 What to Know
Saturday, July 14
10 a.m. to 5 p.m.
Free
Can something be delightful and a little difficult at the very same time?
Well goodness, yes. We might describe most of the elements of our lives as possessing both sides of that particular coin, but one passion that definitely can dip into both emotions is the pursuit of train love.
Mostly, of course, this particular pastime is a delight, but here's the true fact: Trains leave, by their very nature, so getting up close with a few amazing cars and engines isn't always in cars, we mean cards, for those obsessed with these wonders of the rails.
The Scene
What to do, where to go and what to see
But Union Station, as it often does, will address this minor frustration quite fabulously, and oh-so-freely, too.
It's Summer Train Fest we speak of, the landmark's pay-nothing party that's devoted to all aspects of train-obsessed fandom. It's a festival that's loaded with to-dos, displays, activities, and sights that should appeal to both tykes and grown-ups who like a good toot-toot.
The shiny centerpiece of the Saturday, July 14 event? You're invited to "... climb aboard a rare collection of beautifully restored vintage train engines from the 1940s, '50s and '60s along with state-of-the-art Metrolink and Amtrak trains."
Way cool. As cool as a steam train's boiler is hot.
Vintage Zephyrs, and old-school parlor-café car, and a 1956 Pullman sleeper will also make the learn-a-lot scene.
A scene that will include a selfie area (it's train themed, natch), a virtual reality experience that takes you into the Swiss Alps (again, there shall be a train involved), kid crafts, cool games, a play area featuring that rail-mazing celeb, Thomas the Tank Engine, and several other to-dos to choo-choo-se from.
Summer Train Fest, in short, is about trains staying, and not leaving, which gives fans a chance to eye them up-close, to get to know their designs and stories, and to revel in this beloved form of moving from Point A to Point B.
But it is all about Point A, Union Station, on July 14. Don't forget: It's free, but there'll be train merch, food, and other goodies for sale.
Copyright FREEL - NBC Local Media