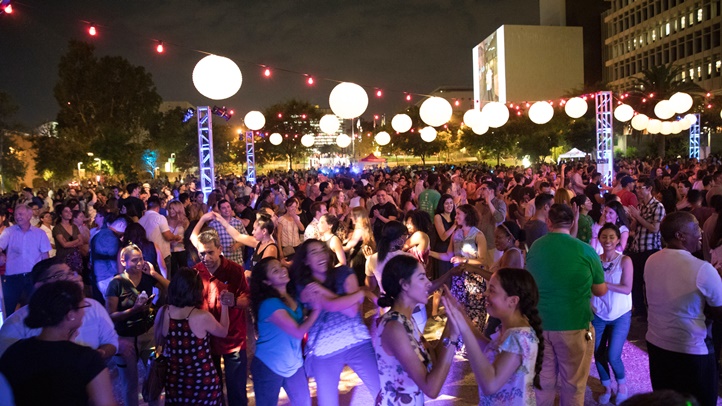 What to Know
Friday, June 22 open
Every Friday through Sept. 7
Free
Dancing at dance class? Fab. Swaying a hip in line at the grocery store? Often done.
Snapping along as you hear a swinging song from a passing car? Yep. It's hard not to do.
But the opportunity to break out into exuberant, raise your hands, raise your spirits, raise the vibe dance movies in a place where no dance typically takes place feels, if we might, rather magical, and pretty dang unusual, and as summery as a cold treat on a stick.
The Scene
What to do, where to go and what to see
And, to do so for free? Without handing a ticket to someone, a ticket that cost $$$? As in, lots of dough?
Goodness but that is a good thing, a grand thing, even, and that such a real-world, this-actually-happens happening occurs in Grand Park each summer is as sweet as that aforementioned cold treat on a stick.
It's called Dance DTLA, it is limboing into its 14th season, and it all revs up on Friday, June 22. "Every Friday night" is the general rule with this event, except for Friday, July 27, when there is no Dance DTLA.
Mark it down now. Shake it at home that night. Promise you will? Aces.
Some Dance DTLA evenings'll have a theme, like samba on June 22, and some will feature DJs and carefully crafted musical experiences.
Disco Night, always a huge hullabaloo, is on Aug. 10 in 2018.
Note that the DJ Nights during Dance DTLA get a later start, at 9 p.m., and have a later finish, at midnight. Dance Downtown, which includes the themed dance nights, gets moving at 7 and gets going at 11.
"Picnicking is encouraged" but if you don't have time to sandwich-up at home, there shall be eats for purchase.
Copyright FREEL - NBC Local Media