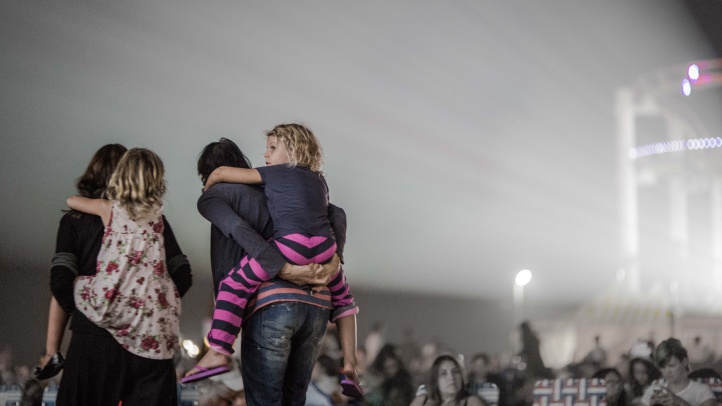 Does a shark like cinema?
Do seahorses prefer sad films or the sorts of movies that deliver mirth? And if you were to ask a crab what he likes from Cannes, could he rattle off a few titles, directors, genres?
Well... let's give the ocean, and its denizens, wide berth. We don't expect our damper friends to pursue the sorts of things we like to do, but we're awfully grateful when they let us sidle up alongside their salty home, all to have a free night of free film fun.
The Scene
What to do, where to go and what to see
Yep, we said "free" there, twice, and we meant it, for it is Front Porch Cinema we speak of here.
If you know your low-cost Santa Monica Pier pastimes, you know this series, which pops up and spreads the cinematic goodness without asking anyone to show any cash.
And it is rolling out, with all of the elegance of a foamy wave, over the second-to-last weekend in October 2018.
Coming up on the outdoor screen?
"Clueless," that oh-so-LA-y '90s bon bon, screens on Oct. 19, "The Addams Family" vamps on Oct. 20, and the tender-hearted "Coco" completes the picture on Oct. 21.
Again, this is all free to see, but do bring money for the food trucks, for those'll be around and sizzling up tum-filling fare.
Also? There are "old-timey" lawn chairs for rent, if that's your preference.
A Candy Corn photo booth complete with props that summon the spirit of each film, coloring stations, characters rocking costumes, and more after-sundown sweetness is afoot.
And, a bonus: While we're certainly experiencing some October chills, the daytime weather is staying fairly fine, which means it won't be too brrr-y, out by the beach. (Okay, a bit, so do bundle up accordingly.)
Eager to see a movie at Santa Monica Pier?
You probably can't bring a shark or seahorse as your plus-one — they'll want to stick to the nearby H2O, after all — but you can round up your kids or co-film fans for a fun and free night out.
Copyright FREEL - NBC Local Media