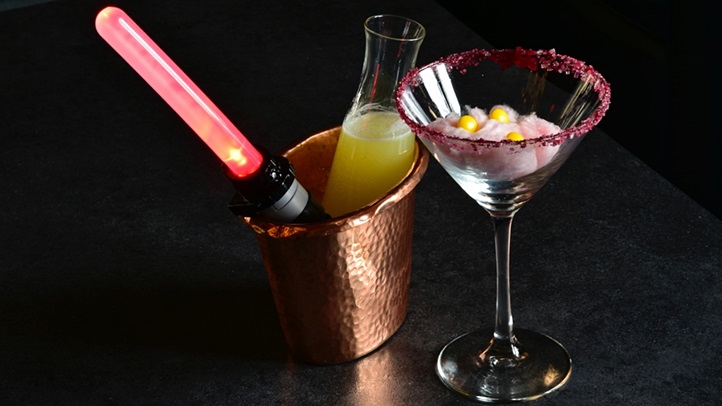 It isn't all that often that a particular moment or scene in a film gets its own handle, and a one-word handle at that.
Typically you have to describe the part you're thinking of, in complicated detail, for a minute or two, before your friend says "ohhh, yeah, okay, I kinda remember now."
But that isn't the case with the Cantina scene, which everyone knows, in every quadrant of the galaxy, and to even say the film's title is to reveal you don't think your listener knows what you're talking about.
The Scene
What to do, where to go and what to see
They do, 100%, because it's "Star Wars: Episode IV A New Hope," and to play at your own Cantina scene here in Southern California, at least drink-wise, you only need to head for Morels French Steakhouse & Bistro at The Grove or Market City Caffe in Burbank in the days leading up to the release of "Star Wars: The Force Awakens."
We're not sure if you'll be sipping among the scoundrels of Mos Eisley or not -- probably you'll be seated next to some Burbankians getting off work or Grove shoppers -- but you will have to chance to order from a grown-up menu that has as many libations as an an Ewok as adorable expressions.
The choices? There's the Darth Tater, which employs Chopin Potato Vodka, as well as Kahlua, malted chocolate milk, and "a cinnamon stick 'light saber.'"
We mean, obviously you're going to play with that while you're there. Obviously.
There's a mug, too, with that particular drink. Other choices include the Sarlac Lick -- raspberry dominates, with flavored Stoli and Chambord -- and the Flying Solo, a tequila-based concoction.
There are a few other cinematic choices to peruse. As for the Cantina band playing over in the corner while you and your Force-lovin' friends share a toast or two?
They're pretty booked this week, what with the holidays and all, so it'll be a restaurant vibe, per usual. But if you pretend that cinnamon stick in your sip is a light saber, well, you can almost pretend that you have just an hour or so to get out of Mos Eisley without too much trouble.
Best not invite Boba Fett along (unless he's already caught wind of the special menu, which is likely, given Boba's knack for being in the know as to the haps).
Copyright FREEL - NBC Local Media