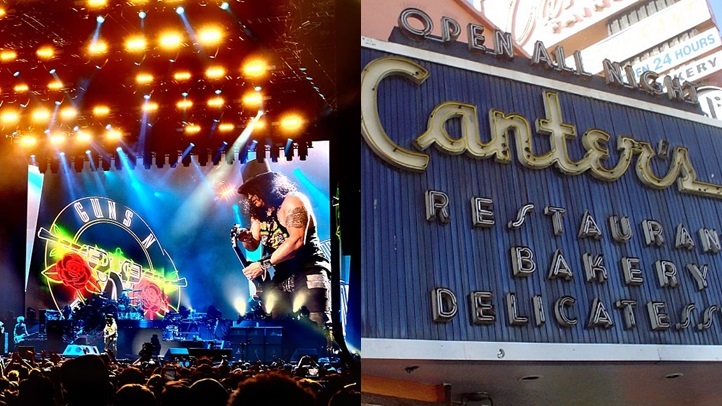 If you're up on your knowledge of the LA music scene, and you know your local restaurants and bars, you likely have a pretty firm grasp as to where and how those two worlds intersect.
You can talk about what artists hung out at what taverns, and who got their break rocking open mic night at which all-night diners.
And when you talk about Canter's Deli on Fairfax Avenue, you immediately follow with a super-group that's synonymous with the pastrami-perfecting, matzo-magical landmark: Guns N' Roses.
The Scene
What to do, where to go and what to see
Many a snapshot depicts the formed-in-'85 outfit hanging out in the iconic booths of the eatery, photos so charming and vibrant that they brim with authentic rock cred. And some of those vibrant pictures are currently on display at the restaurant.
Do note that this is not the "unofficial exhibit" that was in the works a number of weeks back, reports LA Weekly, but a few "rare photos" for "fans to view and enjoy during regular business hours."
Those same fans may be heading to one or both of the Guns N' Roses concerts scheduled for Dodger Stadium on Aug. 18 and 19. Canter's seems like a natural dinner stop ahead of the shows, even if it sits a bit over seven miles due west of the Elysian Park stadium.
Perhaps you and your crew can discuss, over dinner, one of the definitive tomes on the band, 2008's "Reckless Road: Guns N' Roses and the Making of Appetite for Destruction."
The author, of course, is none other than Canter's owner and manager Marc Canter. Bassist Duff McKagan called Mr. Canter "like the sixth guy in the band," a man so versed in GNR-ness that his book has become a go-to for burnishing one's knowledge of the legendary act's rise-and-rise on the rock 'n roll scene.
As for the "unofficial exhibit" of the GNR, the one with photos by Mr. Canter, Jack Lue, and Gene Kirkland? LA Weekly says to stay tuned; "scheduling issues" may have delayed the show's Aug. 18 opening at Canter's, but a time and place should be revealed soon.
Copyright FREEL - NBC Local Media