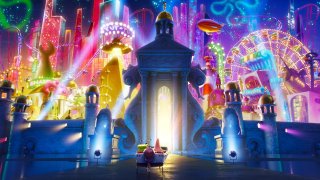 What to Know
Feb. 26-28, 2021
Rose Bowl Stadium in Pasadena
$30-$100; Heal the Bay is the beneficiary
Are ya ready, kids?
Because the squarest superstar to ever reside in a pineapple is the fun focus of a Pasadena pop-up, one that's ready to glub-glub over three fantastical February days.
We're talking about SpongeBob SquarePants, of course, the perennially upbeat, won't-get-down, can't-get-down denizen of the ocean floor.
The Rose Bowl Stadium has teamed up with Nickelodeon, Paramount Animation, and Paramount Plus to create a cartoon-cool SpongeBob-inspired drive-thru and movie experience, an outing created for everyone who is feeling Krabby these days.
If you're ready to turn your frown around, and greet life with a Patrick-style sense of enthusiasm and wonder, be cheered: "The SpongeBob Movie: Sponge on the Run" Under the Sea Road Trip Adventure will be creating a merry marine scene at the Crown City landmark.
The dates?
Tell your favorite pet scallop and round up all of your worms: It's all making a splash over the final weekend of February 2021.
Your daytime or evening visit "under the sea" starts with "... a kid-friendly journey with a contactless check-in," with a roll through "... multiple experiential environments," environments brimming with "... with digital interactions and photo moments along the way."
After sailing through a wondrous world of Spongebobiana?
Catch a peek at the brand-new television series "Kamp Koral: Spongebob's Under Years," followed by a screening of "The Spongebob Movie: Sponge on the Run."
A ticket?
The minimum donation starts at $30, and here's something that'll would even get Mr. Krabs to crack a smile: Heal the Bay will receive all of the evening's proceeds.
You might want to eat a Krabby Patty before leaving home, as concessions won't be available during the experience. Read more on what to expect, tickets, and times now.
THE SPONGEBOB MOVIE: SPONGE ON THE RUN from Paramount Animation and Nickelodeon Movies. Photo Credit: Paramount Animation