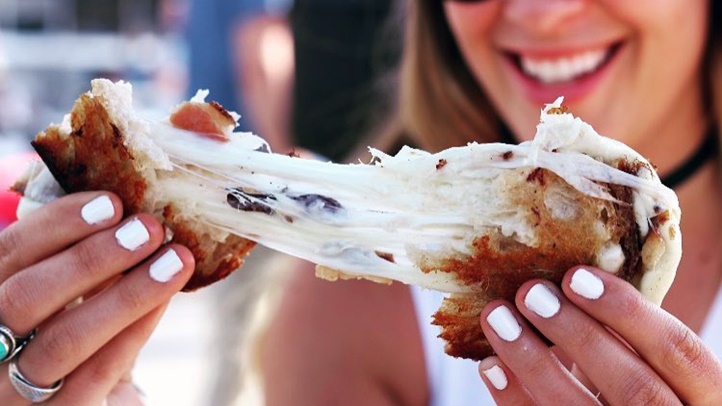 What to Know
Saturday, Nov. 3
Noon to 4 p.m.
$30 Meltdown Package
In general?
Food festivals, which are perfect and plentiful around Southern California, tend to be defined by a particular dish or meal type, say, like cheeseburgers, or tacos, or pizza.
But to say that the gathering at Santa Anita Park on Saturday, Nov. 3 will be gooey is also completely correct.
The Scene
What to do, where to go and what to see
It will also be melty, and toothsome, and those little soft and warm strings of cheese that occur when you pull apart a grilled cheese sandwich are part of the tempting theme.
Naming a festival, though, "Little Soft Strings of Cheese Between Two Halves of a Grilled Cheese" is rather a mouthful, however, and probably won't fit tidily on a poster.
Smorgasburg Meltdown, however, certainly does, and the "Meltdown" part of the event name tells you so very much: This party will all about cheesestuffs that have been heated to a gooey, ooey, and deeply delicious level of soft-a-tude.
The "Smorgasburg" part of the name reveals that, yes, Smorgasburg LA is behind the bash. But rather than taking the gooey-ooey-tacular to ROW DTLA on a Sunday, the eat-it-all market's usual home and day of the week, the historic racetrack in Arcadia will be the place to be on Nov. 3.
Set to show at Santa Anita with all of their meltable meals? Cheezus (mmm, grilled cheeses), Big Mozz (yep, mozzarella sticks), and a few other favorites.
If you want to try a quartet of pull-apart-able favorites, The Meltdown Package is what you'll want to score. The $30 package gives you the chance to try four cheesey items, and four brews, too, and some ways to get in on the horse-cheering fun.
For the details, get gooey and/or ooey at the event pages found on the Santa Anita Park site or Smorgasburg LA's social media. (And, indeed: Smorgasburg LA is back at ROW DTLA for its usual market on Sunday, Nov. 11 with Hecho in LA.)
Copyright FREEL - NBC Local Media