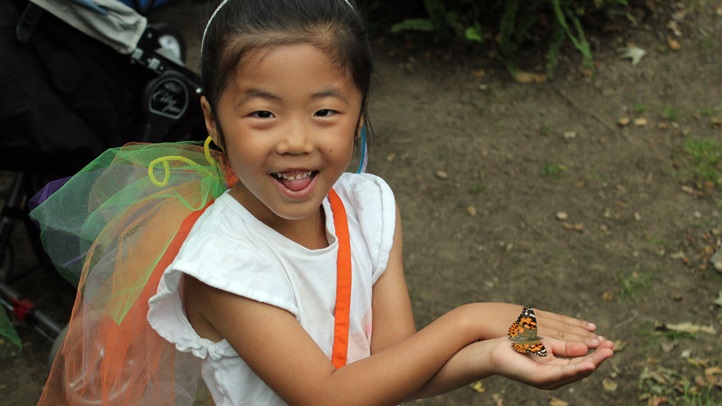 What to Know
May 5 and 6
Pasadena
Admission to Kidspace Children's Museum
What's the first thing you do after suddenly spying a lovely butterfly landing upon a leaf?
You might reach for your camera, slowlyyyy. You might stand still, vowing not to move before the butterfly does. Or you might flutter on yourself, knowing that butterflies around Southern California are a frequent sight.
The Scene
What to do, where to go and what to see
But common, they are not. We don't take our butterfly encounters for granted, and, for many local families, raising the butterfly bar each spring is an honored and happy rite.
Call it a "grand" rite in fact, if you'll be attending the Grand Butterfly Celebration at Kidspace Children's Museum.
The two-day flutter festivity traditionally caps the multi-week caterpillar adoptions and butterfly releases associated with the Pasadena science-and-learning destination.
And it is set to take flight on Saturday, May 5 and Sunday, May 6.
On the schedule? The molding of butterfly puddlers — yep, clay is involved — and the painting of "butterfly scenes en plein air." And the kidly crafts continue with the creation of butterfly stick kites, kites that may be waved during the 2 o'clock DJ presentation.
Also, the butterfly learning opportunities will be as rich as a Monarch is majestic.
One thing to note, if you've attended in the past? There won't be a live butterfly release at 2 p.m. each day, though some people may be returning to Kidspace to release their grown-up butterflies, the former caterpillars they adopted a few weeks back.
If you have a tot who has to say "howdy" to every winged thing she passes on her walk down the block, and who rocks a pair of wearable butterfly wings even at home, this sweet and nature-centered lark is made for her, and for all kids and adults who enjoy coming upon a wind-riding insect of astounding beauty.
Admission to the Grand Butterfly Celebration? Your admission to Kidspace gets you in, flutterers of SoCal.
Copyright FREEL - NBC Local Media