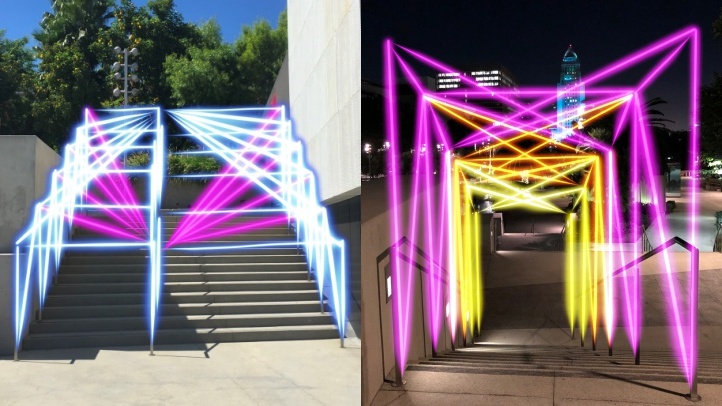 What to Know
Dec. 1-25, 2018
Free
19 large-scale installations
Lights & nights?
It's more than an easy-to-remember rhyming device: It's the whimsical way that a number of locations around Southern California approach the holidays.
Night? That comes, once a day, for a good long stay, and no spoiler alert is needed. But setting some lights, that are lovely and ethereal and colorful, requires a bit of art, and clever planning, on the part of the place.
The Scene
What to do, where to go and what to see
And one major place is dipping an enthusiastic toe into the whole "lights & nights" things, this December, or most of December, beginning on the first day of the month.
It's Grand Park, which will shimmer with a "Winter Glow" from Dec. 1 through 25, and that is a glow that may be gandered at, for free, by you and anyone who stops by after sundown during that period.
The large-scale "immersive" event will feature 19 installations that, yes, glow and/or boast some sort of illumination.
A number of artists and art collectives have created pieces for the eye-mazing extravaganza.
Look for "The Wave Pendulum," from Two Bit Circus, which is described in this intriguing manner: "Guests will work together to trigger the initial motion of these suspended pendulum balls, and physics and gravity will evolve the undulating movement."
Other sizable works will also ask for participation, including Aphidoidea's "A Spark of Light," which involves touch sensors and a bouquet of changing hues.
It just may be the bundle-up, go-agog must-do of the season, one that requires no money to visit but plenty of wonder and the desire to be delighted.
Most of us have a store of both, somewhere deep inside, so save some and bring it to Grand Park's new "Winter Glow" from Dec. 1 through 25.
Copyright FREEL - NBC Local Media