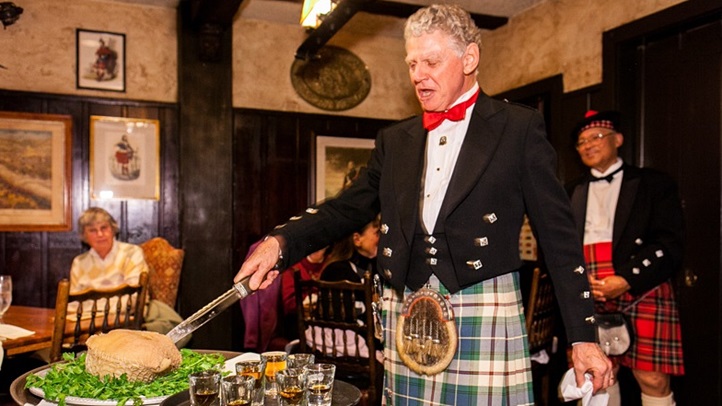 Roll up to a Southern California eatery and chances are solid you'll encounter a menu that features one of the following: hamburgers, pastas, doughnuts, omelets, French fries, onion rings, salads, pies.
This isn't to say that each of those staple-style dishes isn't presented in a fairly unique and gotta-go-back-for-it way at their respective restaurants, just that seeking them out isn't a task of the most demanding order.
But locating a spot that'll do up an old-style, traditionally cooked haggis? You probably can't just park your wheels anywhere and find it at the next grill-boasting joint you pass. It's a complex dish, one with historic Scottish roots, one that involves a sheep's stomach, and other organs, and oatmeal, and spices.
The Scene
What to do, where to go and what to see
Plan, though, at calling upon the Tam O'Shanter on a few specific January nights and you're apt to encounter Scotland's well-known national dish.
It is on those chilly January evenings that the landmark Atwater Village tavern marks the anniversary of the birth of poet Robert Burns. Mr. Burns, who was born 258 years ago as of this typing, is much associated with the tam o'shanter, as in the hat, an article of clothing he celebrated, via poetry, centuries ago.
He also wrote "Address to a Haggis," making the dishe an obvious centerpiece of an event devoted to his immortal words. But the fragrant, fabled dish isn't the only part of the Tuesday, Jan. 24 and Wednesday, Jan. 25 parties; the wearing of kilts, the playing of bagpipes, and more pomp than is normally folded into a neighborhood restaurant are all on the dress-up docket.
How many dining to-dos have you attended that folded in poetry, step-dancing, and oratorical touchstones stretching back over the decades (and an ocean)? If this is a regular thing for you, you are to be commended for your stellar social life.
But the Robbie Burns Dinner at the Tam O'Shanter is pretty singular, as singular as a carefully crafted tam o'shanter hat, or well-cooked haggis, and it only comes around once a year, over two nights.
Surely that's worth breaking out the kilt for?
There are two seatings, on Jan. 24 and 25, for this popular affair, one that recommends guests attend in "traditional Scottish dress." Gather ye heather and high hopes for a poetic and stylish night now.
Copyright FREEL - NBC Local Media