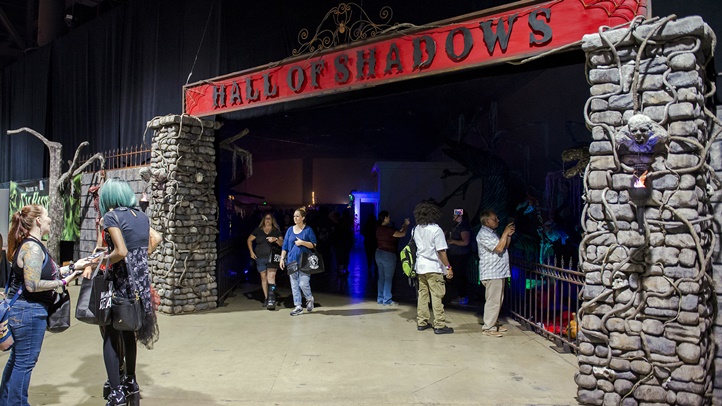 What to Know
Saturday, July 28 and Sunday, July 29
Long Beach Convention Center
$34 Saturday and $30 Sunday
Bravely venturing into a shadowy maze near Halloween?
Thousands of Southern Californians voluntarily do so, even as they clutch the elbow, upper arm, and shoulder of their nearest friend as they both tentatively inch forward into the unknown.
But, all in all, those mazes can be on the smaller size, even though they're packed with big scares. Or, at least, you'll be through them in five minutes or so, depending upon how fast you're scurrying.
The Scene
What to do, where to go and what to see
How, though, might you feel when faced with a frightening space that fills 80,000 feet? And knowing that throngs of phantoms and ghoulies and the undeadiest of the undead are lurking within?
"Jazzed" or "stoked" are the likely answers given by Midsummer Scream fans, especially when they find out that the Halloween dream of a convention is bringing back its knee-quaking, tummy-shaking Hall of Shadows during the July 28 and 29 event.
The vast dark space, which will indeed stretch over 80,000 feet, won't be a traditional Halloween maze, exactly, but it will diabiolically include "swirling fog and terrifying monsters," as well as a host of haunted sights and thrills.
Rick West, creative director for the top-notch Halloween con, says "here visitors will experience over a dozen haunted attractions, live entertainment, and check out exhibitors who are right at home in this dimly-lit environment."
"Hall of Shadows is a virtual commercial for Halloween in Southern California, and has become a huge, unique feature of Midsummer Scream that isn't replicated anywhere else," continues Mr. West.
Should you be especially fond of sliders, those athletic, on-the-move freakies who have a knack for suddenly appearing at your side, check out the Decayed Brigade, the "high-energy monster performance team."
They'll be sliding, and startling, three times each day inside the Hall of Shadows.
How to enter, if you dare? And surely you do dare, we'll wager. The frightful 411: Your admission to the larger fest o' fright gets you into the Hall of Shadows, oh yeah.
The sweat-inducing space is but one eerie feature at Midsummer Scream, which will spread out, like some glowing green ooze of mysterious origin, at the Long Beach Convention Center on Saturday, July 28 and Sunday, July 29.
Previews of theme park haunts, all sorts of eeky entertainment, and more Halloween-esque vendors than you can stick inside a cemetery will fill the full-of-foreboding fun fest.
Copyright FREEL - NBC Local Media