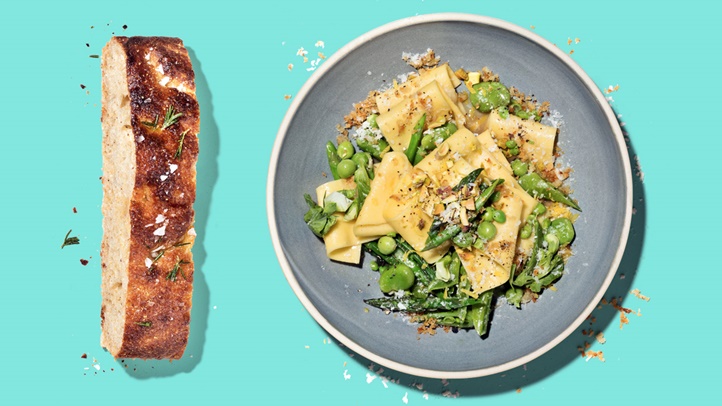 What to Know
July 13-27, 2018
Nearly 400 participating restaurants
2-course lunches begin at $15 and 3-course dinners begin at $29, depending upon the restaurant
dineLA, our city's truly tremendous and out-sized Restaurant Week, is turning 10, and while no gift is in order — we mean, what would you even get a Restaurant Week? A certificate to a favorite eatery? — you might pause to ponder all of the delicious deals Southern Californians have enjoyed over the last decade.
And if you'd eaten at every restaurant during every dineLA, and scored ever discount-cool meal, you could probably claim, after ten years, that you'd devoured a football field worth of pizzas, a swimming pool full of gelato, and enough enchiladas to cover a mile, when placed end-to-end.
Such math-based flights of fancy aren't necessary, but a few numbers are: dineLA Restaurant Week's summer 2018 event features almost 400 participating venues, which means prospective diners will be faced with the not-so-agonizing choice of picking among literally thousands of different appetizers, entrees, and desserts.
The Scene
What to do, where to go and what to see
Some multi-course meals are priced as low as $15. Yes, that would be lunch.
And the dates cover half of July, or nearly: Friday, July 13 through Friday, July 27.
Finally, there's one more number to highlight: 10, as in the 10th anniversary of dineLA.
The bi-annual happening, which is helmed by Discover Los Angeles, is spotlighting 10 superstar dishes in the new culinary campaign, dishes that have become "the quintessential hallmark of L.A. culinary experiences spanning the past 10 years."
Some of the eats that made the campaign-star cut? Steak, pasta, and kebab with hummus. And, yes, you'll see those items, again and again, throughout the newest iteration of dineLA.
There's also an American Airlines giveaway during this dineLA. One very lucky diner will be presented a gold commemorative plate, which means that they just scored, out of the blue, 100,000 American Airlines AAdvantage miles.
So have you been to every dineLA over the past decade?
Some diners around town surely have been, but there's always somewhere new to nosh. The latest entries to the Restaurant Week participant list include 189 by Dominique Ansel, Bone Kettle, NoMad, Gesso, Jaffa, and Wood & Water.
Call it the perfect way to visit a favorite spot for a two- or three-course meal, and save, or to check out a new-to-you or new-to-the-city dining establishment that's getting heaps of buzz.
Would every pizza served during every dineLA Restaurant Week truly fill a football field?
Probably several fields, we imagine, given that this eatery-spotlighting spectacular is one of the most robust and all-encompassing food events around, here, way beyond here, or anywhere.
Copyright FREEL - NBC Local Media