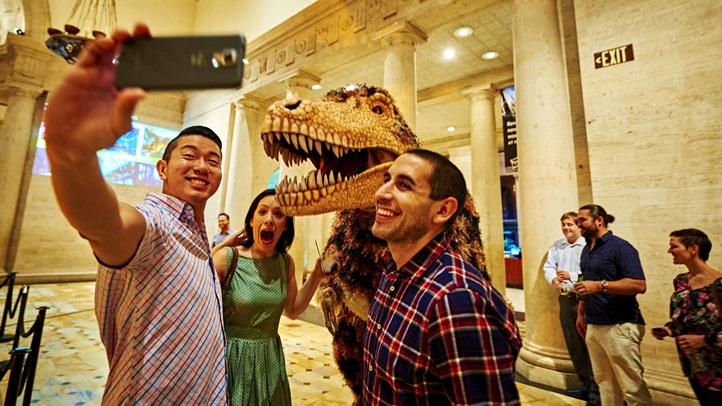 What to Know
Sept. 29 and 30
Natural History Museum
Museum admission
True story: Dinosaurs, as in living, breathing, clawing, teeth-glinting beasties, aren't roaming Southern California at this exact moment.
But, if they were, how would they move around?
By Metro? If they took the freeway, would they use the HOV Lane, if they were traveling in a pack of three or more? And would all of these colossal critters be seen stomping in the direction of the Natural History Museum of Los Angeles, in Exposition Park?
The Scene
What to do, where to go and what to see
If it is the final weekend of September 2018, that's absolutely the dinosaurs' destination, so keep an eye out for Carnotaurus in the carpool lane.
For it is Dino Fest time, the once-a-year NHM festivity that spotlights these fiercesome titans of old and all of the fascinating facts surrounding their stories.
This is year three for the T. Rex-sized celebration, and there's a special prism to the upcoming party: The 10th birthday of the beloved Dinosaur Puppets, those amazing, real-seeming figures that may be seen moving about the museum, often on weekends.
Are these puppets, which have talented puppeteers inside them, captivating to watch? Totally.
Will they be easy to honor on this big occasion? "Rawr," which is dinosaur-ese for "totally."
Other dinosaur-related doings will flower, like some ancient palm, all weekend long. You can check out "rare specimens from the Museum's collections," oh yeah, as well as hear from Dinosaur Institute paleontologists.
Activities — they're "hands-on," you betcha — and other happenings will fill up the saurus-y scene.
So should you make room on the freeway to allow a dinosaur to pass, if you happen to see one approaching quickly in your rearview mirror?
And should you not take up a whole row on the train, should a dino want to sit next you?
Neither is necesssary, nowadays, given the dearth of living dinosaurs in our modern world.
But making room on your schedule, on Saturday, Sept. 29 and Sunday, Sept. 30, is a fine idea, if you're a fan of earthlings who lived in the way, way, wayyyy back, and you enjoy learning more about their Jurass-tastic world.
Copyright FREEL - NBC Local Media