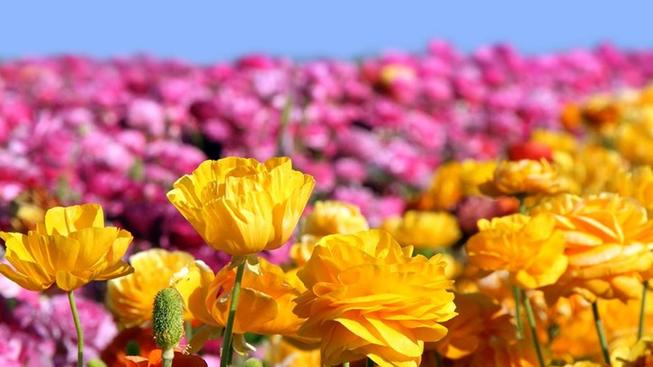 What to Know
March 1-May 12, 2019
Carlsbad
$18 adult admission
The winter solstice quite understandably gets a lot of attention each December 'round these parts. It rocks the longest night of the year, famously, and both ancient rituals and science-oriented meet-ups alike fill its chilly hours.
But what of the day after the solstice?
The 22nd of December doesn't boast quite the same cachet, but consider that it's when those longed-for longer days kick in, meaning sun worshippers get to soak up more beams, bit by bit, day by day, all the way through to late June.
The Scene
What to do, where to go and what to see
If the day following the solstice feels especially auspicious to you, and you'd love to do something that speaks to warmer times ahead, to more sunshine, and to the wilder world waking up, consider this: Tickets for The Flower Fields are now on sale.
Indeed, the famous Carlsbad spread o' flowers, which is filled with acres and acres of brightly hued ranunculus, won't open before the first day of March 2019.
But that doesn't mean that you can't secure your ticket to the agri-amazing destination, which offers several fresh-air'd activities as well as opportunities to walk among the super-spectacular blooms.
Watching for when peak color arrives is part of the anticipation, but The Flower Fields social pages keep fans in the know, whether the showiest moment of the season shows up in late March, mid-April, or at another moment before the landmark closes in May.
And, yes: The Flower Fields always times its final day of the season to Mother's Day, which in 2019 is on Sunday, May 12.
That's still months away, of course, but there's no doubt about this: We're now just a bit beyond the winter solstice, which means, yes, more sunlight shall be ours, each and every day, for the next half year.
If you're feeling a bit flowery at the news, well, we get you.
Copyright FREEL - NBC Local Media