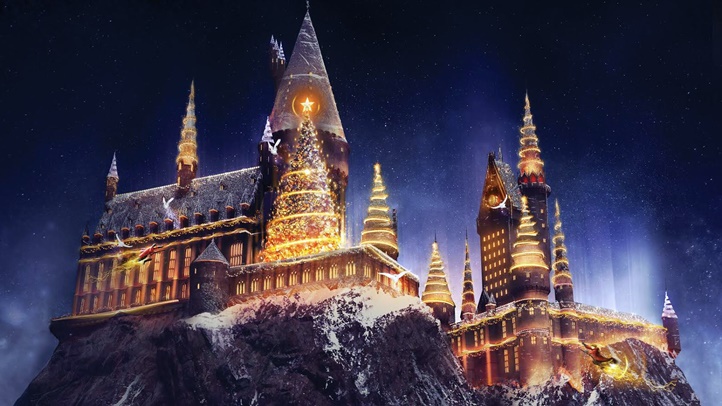 Keeping some sweet secrets around a favorite holiday? It's kind of tender-hearted tradition.
After all, you don't want your friend knowing you bought him an awesome new wand, nor should your cousin discover that she'll find a Golden Snitch in her stocking.
Keeping mum about the delightful surprises isn't easy, but many of us do it come the end of the year.
The Scene
What to do, where to go and what to see
Universal Studios Hollywood has followed merry suit on the keep-it-quiet front in recent months, too, at least where the brand-new Christmas in The Wizarding World of Harry Potter experience is concerned.
The holidaytime happening was first revealed in June 2017, but, beyond a promise that it would all begin in November, and that special songs and sights would play a part, Universal kept as silent as a stately oil portrait. (Which actually don't stay all that silent in Harry Potter, but in the world of Muggles, they do.)
But Christmas is coming, and Thanksgiving, too, and Christmas in The Wizarding World of Harry Potter will open at the theme park on Friday, Nov. 24, the day after turkeyiest day of the year.
The closing date? Count 'em up: The yuletide sparkle'll stay strong for seven full days in early January, with a farewell date of Sunday, Jan. 7.
Fresh holiday fare, wizard-worthy Christmas ornaments, and, yes, tummy-warming Butterbeer shall play a festive part in the jovial doings, doings that take place in a world imagined by author J.K. Rowling.
And each store around Hogsmeade village will sport sprightly decorations during the multi-week event, so pausing for a picture by those famous window displays will be a must-do on many a visitor's wish list.
What's that? A song full of sorcery and cheer? New entertainments of a musical bent will also bloom like holly, so be sure to check out the a capella Frog Choir, which will feature Hogwarts students, and, yes, some talented amphibians. The "giant throaty frogs" will pitch in to perform some ditties created for the experience, as frogs do, at least in the Potterverse.
Don't be too bewitched by these talented croakers, however. You'll want to stay through sundown for a seasonally splendid light show. Look for the dancing illuminations along the side of Hogwarts School of Witchcraft and Wizardry, lights that will be accompanied by thrilling music from the movies, too.
Are you excited, age-old enchanters and performers of magical arts? This is, after all, "...the immersive land's first holiday themed program since opening at Universal Studios Hollywood in 2016."
It's a new way to find Noël cheer, and hot Butterbeer, too, at the ensorceled spot high on the hill in Universal City.
Copyright FREEL - NBC Local Media