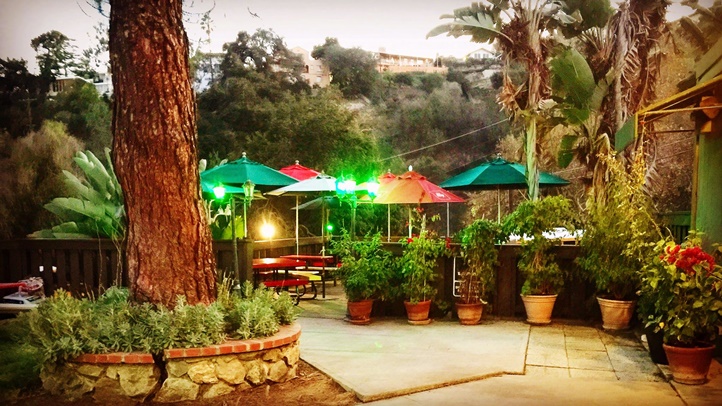 No spoiler alerts required here, or lengthy explanations needed: A beer garden, we'd like to point out, has the word "garden" in its very name.
That doesn't mean that an alfresco set-up of tables and taps needs to be placed among a plot of petals and shrubs; beer gardens can, and do, charmingly show up in brewery-adjacent alleys, in parking lots, and, yes, even occasionally indoors.
But finding a beer garden that happens to be adjacent to nature, and located in one of the world's greatest urban parks, is a true find, even if it happens to be a pop-up, and even if it'll be a Saturdays-in-the-summertime kind of thing.
The Scene
What to do, where to go and what to see
The Roosevelt Cafe, sitting, as it does, tucked just inside Griffith Park off Vermont Avenue, is pretty much an ideal place to stage a beer garden, and so it shall for the spring-into-summer season, every Saturday, beginning on Saturday, May 13.
The name? This'll be a snap to remember. You won't even need to jot it down, seriously, as it is 100% memorizable: Griffith Park Beer Garden.
There shall be top-notch suds, and eats, too — the garden's Facebook page features a tempting sausage and a flight of four beers for twenty bucks — making it a true beer garden in character, too. (There should be sausage-y noshes at an authentic garden, or at least beer-complementary noshes.)
LA Weekly reveals that a DJ'll be in the house, or rather garden, when the sun dips down, and that the "beer menu will be expanded."
Oh, and the Saturday hours shall grow, too, along with the warmer temps and longer days.
If you've been to the Roosevelt before, maybe while playing a few holes at the Roosevelt Municipal Golf Course, you might have enjoyed a burger or some eggs and bacon. It's a pleasant setting, and even a touch bucolic, bringing the country right into the city, and, for a series of special spring and summer Saturdays, a beer garden, too.
This isn't to say that beer gardens shouldn't charmingly show up in parking lots, alleys, and other un-shrub-laden spaces that could be improved by some song, suds, and socializing, but getting one in a green place, at least for awhile, holds up the "garden" bargain in the name.
Copyright FREEL - NBC Local Media