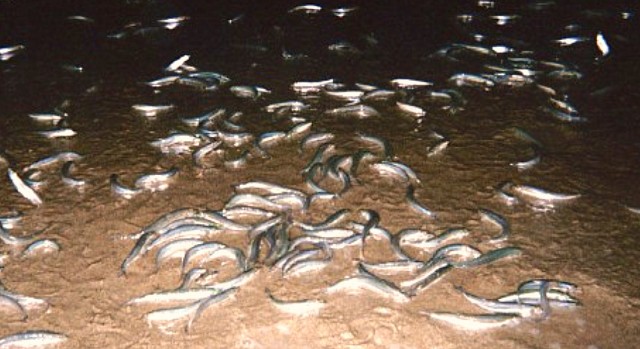 A leisurely boat trip, one that takes a few hours and takes in some sights, is very much about enjoying the sun, and the clouds, and the seabirds, and the companions who are sharing the day with you.
But few people ever spend a day on a vessel without thinking, at least once, "I wonder what's under this boat?"
The sky -- er, the ocean -- is the limit, but the denizens of the deep don't always make themselves known. Unless, of course, you're talking about the grunion, a silvery small fish that, over the course of a few spring and summer nights, makes itself very, very known to we curious landlubbers.
The Scene
What to do, where to go and what to see
As in, the grunion wriggle onto land, terra firma, the beach, a sandy expanse, to do what their foregrunion have been doing for eons: spawn.
Which means that if we human are in the right spot, on the right night, we can witness this wonder of the water exit the water, briefly, to continue to eternal cycle of grunion creation.
While you'll find locations around the Golden State that see their share of grunion-y goodness come spring and summer, one of the best spots in Southern California is at the Cabrillo Marine Aquarium in San Pedro. The institution hosts a "Meet the Grunion" program ahead of a walk down to the shore, providing visitors some fascinating fish stories (these fish stories, of course, are factual).
Night one for the San Pedro grunion program is Friday, March 11. The last night of the eight-night 2016 run is July 21. Some of the nights fall during "Open Season" -- grunion may be "collected by hand" by those holding a current California Fishing License -- and other nights are purely observational. People will be out to do the whole agog thing at seeing aquatic denizens visit our unwatery dimension.
The grunion do their best land-visiting by night, as is tradition, so plan on being at the aquarium for the program's start, which is 9 o'clock (tickets are five bucks for adults, and buying online helps you skip the queue).
A walk to the water's edge follows.
Will you continue to ponder what might be beneath any boat you're on, while you're on it? Of course. The movies and books and imagination has filled our heads with all sorts of visions of whales and sharks and jellies and seahorses.
But seeing what's actually in the ocean leave the ocean, for a few moments, is a strange twist to that oh-so-human slice of curiosity. It's a gasp-worthy, beautiful thing, a grunion run, and it returns, like the phases of the moon and the tides, each spring.
Copyright FREEL - NBC Local Media