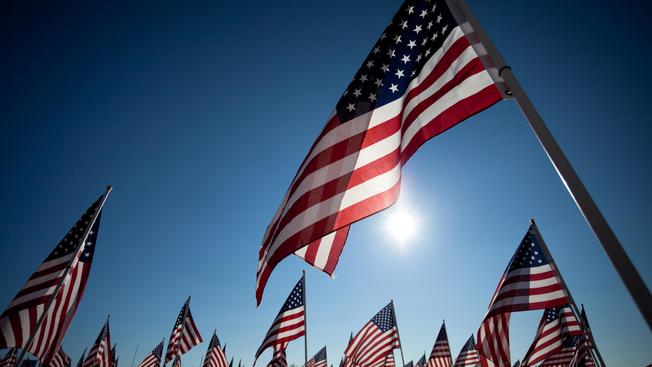 What to Know
Long Beach Veterans Day Parade on Nov. 10
VA West Los Angeles and USS Iowa on Nov. 11
San Fernando Veterans Day Parade is on Nov. 11
Saying "thank you," it is often said, can go a very long way, but there are a number of event-oriented opportunities to show our veterans the gratitude they so deeply deserve.
Those events arise on Veterans Day each year, and finding a gathering, or two, that you can attend, if you're a veteran, love a veteran, or just want to show your thanks, is almost as simple as looking down the street.
Well, perhaps a list of Southern California events would be handy, and while many communities will commemorate Sunday, Nov. 11 in their own ways, consider being a part of...
The Scene
What to do, where to go and what to see
Long Beach Veterans Day Parade and Celebration: Do note that this particular happening occurs on the day before Veterans Day. So you'll want to be along the route by 10 a.m. on Saturday, Nov. 10. Atlantic Avenue is the main thoroughfare, with a South Street start, so study all before heading to this LBC tradition.
USS IOWA: As is tradition, the Battleship Iowa Museum will pay tribute to Veterans Day through a variety of activities, including the unveiling of a plaque dedicated to San Pedro's heroes, live bands, and free eats. Are you "Active, Retired, or Reserve Military"? Your entry to the Nov. 11 Veterans Appreciation Day is complimentary.
Salute to Veterans: Keep Saturday, Nov. 10 in mind, at 10 in the morning, for this event based at the OC Fair & Event Center in Costa Mesa. Heroes Hall will be the center of the salute, which will also include '80s rock, live music from the Pacific Symphony's brass quintet, and a musical appearance by Vanguard University of Southern California. Admission is free for all.
VA West Los Angeles: Make for the Orlando Quad for the Nov. 11 Veterans Day Celebration, which will both honor the occasion at hand and serve as a centennial remembrance of the 100th anniversary of WWI. The unveiling of the Healing Garden, music, and lots more will fill the day.
San Fernando Valley Veterans Day Parade 2018: The start time is perfectly clear and easy to remember — 11:11 a.m. — and the date is Sunday, Nov. 11. The starting point? It's all happening at Laurel Canyon and San Fernando Mission Boulevards. Be sure to stop by the Ritchie Valens Recreation Center for a carnival, too.
National Parks Free Day: Thinking of spending Sunday, Nov. 11 hiking Yosemite Valley or taking in Zabriskie Point in Death Valley National Park? It's a fee-free entrance day at those national parks that usually have a get-in admission. That includes several California-based national parks, such as Yosemite, Death Valley, Joshua Tree, and more. This is also the final fee-free day at the national parks for 2018.
Copyright FREEL - NBC Local Media