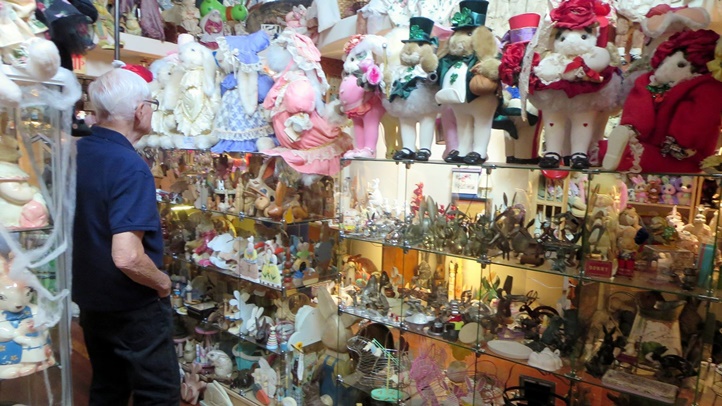 What to Know
The Bunny Museum
2605 N. Lake Ave. in Altadena
25th anniversary party on Feb. 14 from 7 to 9 p.m.
Guessing when the collection for The Bunny Museum, Altadena's world-famous repository of rabbit-based items, first began?
You'd probably immediately say "Easter" if you don't want to mess around, splitting hares. You might even confidently suggest "International Rabbit Day," which everyone knows is in September.
But alighting first upon the 14th day of February, much like a jumping bunny alights upon a small hill near his warren? "Valentine's Day" was likely not your first answer.
The Scene
What to do, where to go and what to see
Of course, if you know Candace Frazee and Steve Lubanski, the founders of the offbeat bunny bastion, then you did guess the day of hearts, for their story of love, and how their formerly home-based museum began, is very Valentine's-y, as tails — er, tales — go.
Mr. Lubanski gave Ms. Frazee a cute bunny toy on Valentine's Day 1993, to mark the sweet occasion, and, ever since, trading bunny-themed gifts, daily, has produced what is most definitely, and unarguably, the biggest bunny-centered institution of bunny-related bunnydom on the planet.
Which all is hopping happily in this direction: It's the 25th anniversary of The Bunny Museum collection, on Wednesday, Feb. 14, 2018, and the proprietors are throwing an evening party to honor the not so hare-o-ing path they've taken.
A path that led them from their home on Jefferson Drive in Pasadena, where the museum was formerly located (before it grew far too large for the couple's house), to Altadena, and Lake Avenue, where The Bunny Museum now resides in a spacious building that includes Mr. Lubanski's Open Road Bike Shop.
We will split hairs, though, to explain how anniversaries work at this quirky locale: Feb. 14 is the anniversary of the museum's massive collection, while March 20 is the anniversary of the museum's official start. (And it is celebrating 20 years on March 20, 2018.)
To make it all a little more... not confusing, but colorful? Candace and Steve's wedding anniversary is neither of those dates.
There really are thousands and thousands and thousands of rabbit toys, souvenirs, cups, pieces of clothing, kitchen items, and such in the structure, which is like a warren, in some ways, though much more capacious and amenable to human visitors.
But, if you've never been, hareing about it from someone doesn't tell the whole story.
Hearing about it, we mean.
So even if you can't make the 25th anniversary bunny bash, you can visit The Bunny Museum on another day of the year. It's eight bucks to enter, and famously open on holidays, and every day of the week, too.
Do sniff around the must-knows-before-you-gos, like a bunny might sniff around some especially tempting lettuce.
And, yes, there are real bunnies at The Bunny Museum, too, though the bunny stuff on the shelves, toys and plates and signs, greatly outnumbers the actual furry, twitchy-of-nose denizens of one of the most talked-about museums anywhere, bunny-based or not.
Copyright FREEL - NBC Local Media