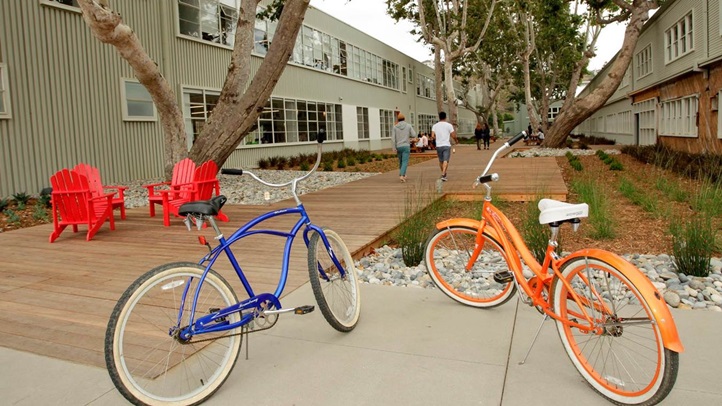 There's just no possible way to A) live in Los Angeles and possess B) a giant curiosity about unenterable buildings and historic structures and C) not be jealous when you see employees or approved people walking into such buildings while you remain on the curb.
But such is the case with a handful of handsome landmarks around our town, places that have stories to tell but also modern-day business to attend to, which means that public tours are not available and strolling inside for a quick look-around isn't going to happen, no way, no how.
Except when it does. The LA Conservancy is very often at the "except when it does" lead 'round these parts, in terms of peeking inside roped-off landmarks, and the preservation organization will be again on Saturday, Oct. 24. That's when the former Hughes Aircraft Company in Playa Vista will open its doors to people who want to know more about the fabled building.
The Scene
What to do, where to go and what to see
Is "fabled" too strong a word? Oh goodness no; after all, the Spruce Goose, one of the most famous airplanes to ever take flight, was constructed on the grounds. It's a flying machine that's been written about again and again, and with good reason. It was made of wood — it was built in wartime — and it is often billed as the largest plane ever built.
It flew, too, briefly, at least, over the water at Long Beach. Shivers.
The Goose is now in Oregon, but there's plenty to see around the buildings, which now house the Hercules Campus, where outfits like YouTube have set up shop.
You don't have to take too big a leap, in your brain, to understand that this spot attracts innovators, whether they're creating massive machines meant to rise above the earth or huge media companies that put the creative controls in the hands of the user.
If you don't work for those companies, currently, you're probably not visiting the Hercules Campus too often, if ever. Here's your chance, though: A few tickets are still available for the Oct. 24 nose-around.
It's a walk that'll brim with Hughes-y lore and Spruce-Goose-ian tales and a peek at what the current tenants see every day when they arrive to make more things that push more envelopes, as is tradition in that story-packed space.
Copyright FREEL - NBC Local Media