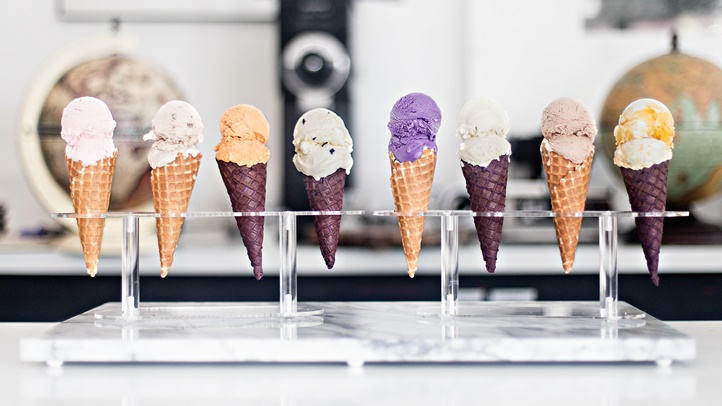 A lane of lollipops, a boulevard of bread puddings, a freeway of fudge? Lengthy stretches of sweets, those storybook places that brim with treats for a good distance, don't actually exist in the real world, surely.
But sometimes, if various stars are aligned, and it is National Ice Cream Day, and a foodie destination like Smorgasburg LA summons it into being, a magical stretch of frosty sweets can shimmer into existence, at least over a few special summertime Sundays.
And the name of that special street? Ice Cream Alley.
The Scene
What to do, where to go and what to see
It's no storybook tale, ice cream eaters. Check it out: A creamy contingent of regional scoop shops'll cluster in one designated area of the popular foodie market, all to keep visitors to the ROW DTLA destination cool during these warm summer weekends.
The dates for Ice Cream Alley's special, try-it-now run? Every Sunday from July 16 through Labor Day Sunday.
Lining up the cones and scoops along the blissful byway are a bevy of top-notch dessert artisans. Wanderlust Creamery, with those travel-inspired licks. Salt & Straw, which is having a very berry-sweet month of flavors. Jeni's Splendid Ice Creams, too, shall be there, and Nancy Silverton's Nancy's Fancy will be in the house (or on the alley, rather).
A number of other awesome ice-creameries, like Sweet Rose Creamery, and purveyors of heat-thwarting desserts, are joining the eight-Sunday run.
That's eight Sundays in all, we'll say again, over these hat-needing, tank top-requiring, SPF-slathering days, so don't delay if interesting ice cream flavors rock your socks, and open-air Sunday food markets your passion.
Sunday, July 16 is National Ice Cream Day, by the by, with specials abounding at a number of spots, like McDonald's and a 50%-off deal at CREAM (save half on any scoop).
Copyright FREEL - NBC Local Media