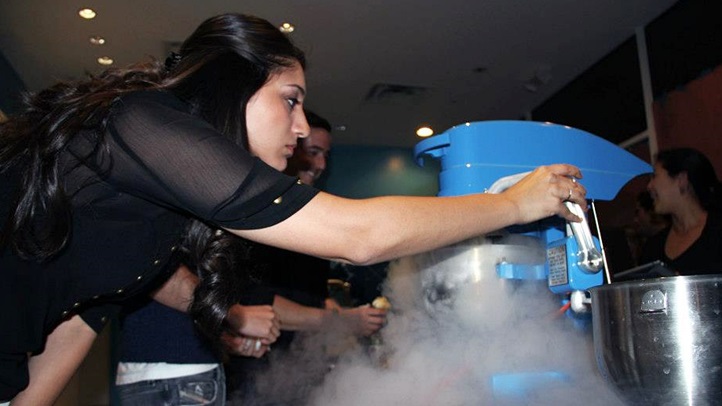 If we've learned anything over the past 30 years it is this: A scoop of ice cream isn't simply a scoop of ice cream.
Technology, branding, artistic expression and whimsy united to bring us a wide, weird array of treats. Ice cream full of candy bar chunks. Ice cream mixed on frosty slabs. Ice cream with hard shells and ice cream named after celebrities and pop culture references.
It's delightful that the forever-popular treat is a growth industry in terms of new ideas. And those ideas continue to blossom: Ice Cream Lab, set to debut in Beverly Hills on Friday, March 15, is all about made-to-order liquid nitrogen ice cream.
The Scene
What to do, where to go and what to see
The creamery goodness, in other words, freezes at -320 degrees on the spot, or after "icy clouds" of the stuff works its magic. Or, erm, science, rather.
Flavors will include Angeles Apple Pie (graham crackers included), Blue Velvet Cupcake (cream cheese lovers will be happy), and Salt Lick Crunch (think pretzel pieces).
In other ice cream news -- how it cheers one to type that -- a Santa Barbara classic is set to re-launch. Visitors and locals around the American Riviera may remember McConnell's. The 70-year-old company just got a refresh, though the fact that the company pasteurizes its own milk and cream at the Old Dairy in downtown Santa Barbara sounds plenty old-school to us.
Some McConnell's flavors? Turkish Coffee, Peppermint Stick, and Churros con Leche. We're going to return to those three words several times today, in our mind, just to make life a little better.
Copyright FREEL - NBC Local Media