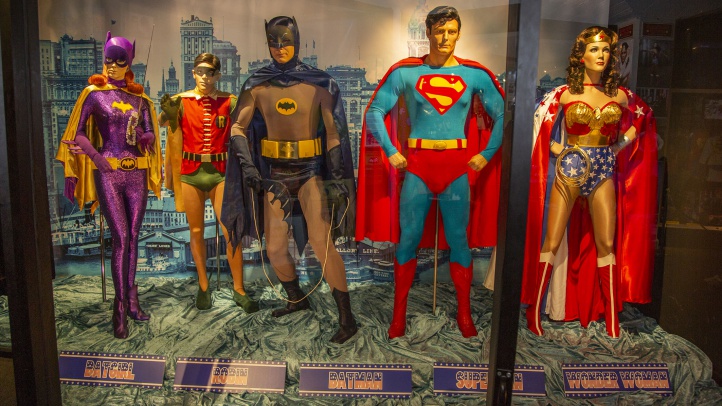 What to Know
Hollywood Museum
$15 adult
$12 senior and student; $5 kids 5 and under
A person hollering, with excitement, about the location where a famous superhero has been recently spied?
It's a story staple, a humorous and endearing plot point, of so many comic books and blockbuster movies.
After all, the mere mortal who comes into near-contact with a cape-rocking icon is practically expected to shout about the sighting, whether or not other, slightly jealous mortals believe the lucky, shouty person.
The Scene
What to do, where to go and what to see
But shout all you like about the fact that several superheroes, or at least their cool likenesses, have been spotted just a pinch south of Hollywood Boulevard, on Highland Avenue.
These figures are currently inside the historic Max Factor building, home to the Hollywood Museum, where "20th Century Superhero Legends" is now on bold display.
The line-up of "life-like sculptures," which include homages to actors Adam West, Burt Ward, Yvonne Craig, Christopher Reeve, and Lynda Carter, is certainly one eye-wowza focal point of the exhibit, but there are other brave 'n majestic items to admire.
Look also for "key pieces of memorabilia and collectibles" from the universe of superherodom to be in the house.
A house, er, museum that also includes several other pieces of Hollywoodiana, from costumes to movie posters to the spooky Halloween-y dungeon area to tributes to Marilyn Monroe.
Where did you last see a superhero? Standing atop a skyscraper? Flying over the Hollywood Sign?
Or inside the Hollywood Museum? Best fly there, over the holiday season, if you're a longtime fan of those true-hearted superstars who'll stand for what they believe and the cities, and citizens, they so famously and tenderly protect.
Copyright FREEL - NBC Local Media