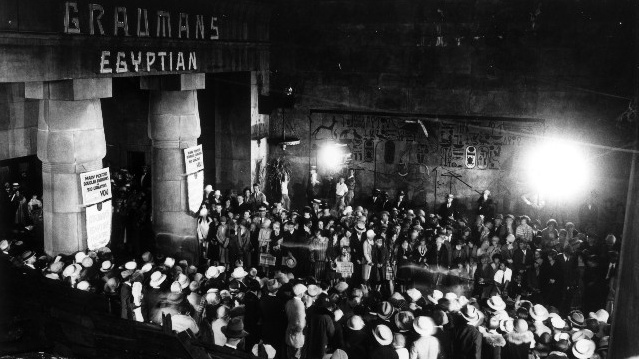 What to Know
Friday, Dec. 7
"Rosita" screening with live orchestra
$25
A single entity isn't entitled to a single important anniversary, ever.
Rather, multiple important anniversaries can pop up for a couple, a family, a school, or a business, the celebratory occasions that are all connected but uniquely distinct.
Take the Egyptian Theatre, in Hollywood, on one of our city's great historic movie palaces.
The Scene
What to do, where to go and what to see
It has a centennial coming up, in 2022, which was just around the time that Sid Grauman, and other cinema-building visionaries, were busily dreaming up amazing movie spaces for Los Angeles.
Dreaming up and then actually building, in a big, big way.
But long before 2022, there is another felicitous moment happening, on Friday, Dec. 7, 2018, and it involves the 20th anniversary of the American Cinematheque's residency at the Hollywood Boulevard cinema.
Before the residency came the group's purchase of the theater, for one dollar, from the City of Los Angeles, followed by a $15 million renovation. The Egyptian re-debuted with new vigor and purpose and the dynamic film group at the helm, on Dec. 4, 1998.
If the two decades have flown for you, dear film fans, and you've seen dozens, if not hundreds of great flicks at the theater, flicks selected and stewarded by American Cinematheque, best get your ticket to a special screening of the restored "Rosita," with Mary Pickford, on Dec. 7.
A live orchestra, led by musicologist Gillian Anderson, will add vivaciously vintage flavor to the experience (Ms. Anderson "... reconstructed the film's original score by working from a cue sheet preserved by the George Eastman Museum.)
True, American Cinematheque was long established as a film-championing collective before The Egyptian's 1998 re-debut.
But for local movie fans, the culture-minded nonprofit and the landmark theater are now deeply intertwined, a partnership that has flourished well over two successful decades.
Celebrate that success, and more to come, on Dec. 7, at the Egyptian Theatre in Hollywood.
Copyright FREEL - NBC Local Media