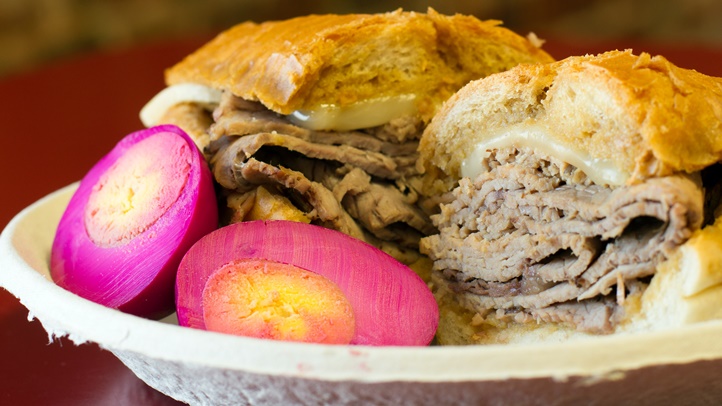 What to Know
Monday, Oct. 1
4 to 8 p.m.
$1.10 French Dips
Telling you, in early May, that something is going to happen on Oct. 1?
You might say, "eh, let us know in August, maybe even September, so we won't forget," almost regardless of what that thing might be.
But if that thing happens to be a discounted French Dip sandwich, from Philippe the Original, the Union Station-close landmark that's famous for sawdust'd floors and neon hard-boiled eggs, in addition to its French Dips, well, you'd almost certainly say "hey, why didn't you tell us sooner?"
The Scene
What to do, where to go and what to see
For it is never too early to add an important French Dip-based event to your French Dip-themed calendar, or, if you're a mega Dip-devotee, your French Dip-focused app.
So here it is: Philippe the Original, or Philippe's, as it is almost universally called, is marking its 110th anniversary on Monday, Oct. 1 by selling its universally famous French Dips for one dollar and a dime.
That's right: $1.10 for a French Dip, from the hours of 4 to 8 in the evening. Big lines? Yes. Big appetites? Yes. A particular cameraderie with strangers who also have grown up with this place? All that.
Also happening in the corner-quaint building on that celebratory afternoon? Look for "games, raffles, prizes, giveaways, and more."
This anniversary party follows several recent happenings around the French-Dip-ery, including Free Chili Day, opening day fun in honor of the Dodgers, and the announcement that you can now order Philippe's French Dip sandwiches, and fiery mustard, from anywhere in the country, thanks to the eatery's partnership with Goldbely.
It's flat-out fantastic that Philippe's is having such a big birthday in 2018, and that, simultaneously, the French Dip is marking its centennial. (Oh yes, that's happening too, but then your French Dip calendar/app already told you so.)
But, please, let's just cut the mustard here: When will there be a mega celebration for the restaurant's best-known condiment?
Surely the hottest spreadable outside of horseradish deserves its own parade up Alameda or something.
Surely?
And we weren't joshing when we dropped the word "universally," twice, in the same paragraph, a few paragraphs back. If French Dip lovers live in some remote corners of the Milky Way, do they, on occasion, ponder when they can next visit the longstanding LA favorite for a tummy-filler of a sandwich?
And do beings from other planets ask for each slice of bread to be dipped or just one slice, so the sandwich isn't overly juicy?
We mean... even we Angelenos have our strict and unyielding preferences in this all-important arena of French Dip preparation.
Happy 110th, Philippe's!
Copyright FREEL - NBC Local Media