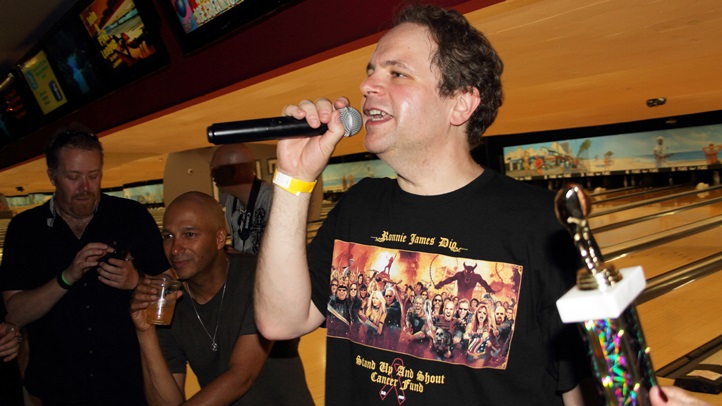 Friday nights for many people are truly magical, oh-yeahhh, goodbye-to-the-stresses-of-the-week occurrences.
This might mean a special dinner out, or a big movie, but for a generation of music lovers it meant turning the radio knob as far as it could turn and pumping up the rockin' sounds of Mr. Ronnie James Dio.
The artist, who passed away in 2010, is synonymous with a host of iconic bands, from Black Sabbath to Dio, the sorts of outfits that gave Friday nights, and every other night of the week, a metal-major vibe.
The Scene
What to do, where to go and what to see
But he's also remembered, in legacy, via the Ronnie James Dio Stand Up and Shout Cancer Fund, which was "(f)ormed in honor of the legendary singer who lost his life to stomach cancer."
If you'd like to pay tribute to the memory of the man who gave many music fans some of their best Friday nights ever, and help out his fund, give one of your Friday nights — Friday, Nov. 4 — to joining a fundraiser in Studio City.
It's at PINZ, which rather gives away the nature of the gathering. The event's name? It's Bowl 4 Ronnie, the second annual, and supporters of the organization, and Ronnie fans for life, will gather to go for some strikes, spares, and money for research.
The fund has raised over $1,400,000 since Mr. Dio passed away, and the group recently "earmarked $25,000 to a research project at UCLA that is developing a simple, non-invasive saliva test for the early detection of cancer."
Participating in the bowling night, or donating or volunteering for Stand Up and Shout, are ways those who want to remember the singer and help researchers work towards cancer cures can get involved.
Want to watch the action on Nov. 4? It starts at 6:30 p.m. and an "individual spectator" ticket is $50. You can bowl for $75, and if you want to save some cash for the auction ("collectibles autographed by artists" will be some of the items), definitely do so.
Ready to roll some bowling balls, socialize with other metal mavens, and be a part of an important fundraiser? It's a Friday evening, and Ronnie James Dio provided the strum-tastic, sing it loud soundtracks for many people over many Friday evenings over the last few decades.
Give back, rock out, make some strikes, help others: All good goals worthy of their own operatic, guitar-solo'd, drum-it-out ballad.
Copyright FREEL - NBC Local Media