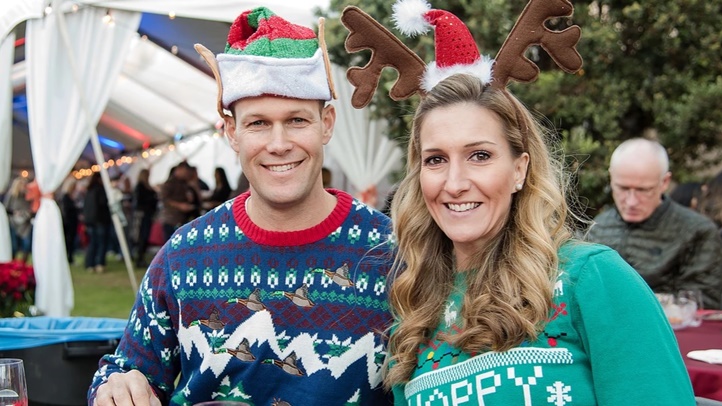 What to Know
Saturday, Nov. 18
The wine tastings are $45 and the fair is free
The Winter Wine Walk is for guests 21+, while the Holiday Fair is all ages
Don't be coy, don't avoid the topic, don't look in the direction of the cookie jar, hoping there are some gingerbread men inside, or the fridge, where the eggnog might be.
Just state the facts: Did you or did you not stow your go-to ugly Christmas sweater, the one with the tinsel and ornaments and LED lights, in a trunk in the attic? In the back of your closet? In a commonly used drawer?
Or has it remained on the back of your bedroom chair where you slung it last December 25th?
The Scene
What to do, where to go and what to see
Okay, then, as we suspected. There's no shame to be felt here, and no cocked eyebrows, and no judging looks. Rather, it just means you need to get the holidays going, and one of the holidayiest of early November fun times is just ahead, in Downtown Burbank, on Saturday, Nov. 18.
It's the Burbank Winter Wine Walk and Holiday Street Fair, a four-block-big event. The quick facts? You'll want to be at least 21 to join the Winter Wine Walk tastings, and a ticket will cost $45. The Holiday Street Fair is free, and open to anyone of any age, and it will start earlier than the Winter Wine Walk, at noon, and it will end at 8, an hour after the wine tasting ends.
The Winter Wine Walk is on from 4 to 7 p.m., if that's your main focus.
The vino-taste-around will include "... 30 wine, craft beer, and food sampling stops throughout the tasting route." Participants on the 2017 rundown? Look for Bargetto Winery, Ascension Cellars, and Urban Press Winery, just to name three.
The street fair is all about the live entertainment, the shop-or-look booths, and a special snowfall near San Fernando Boulevard and Palm Avenue, where the Main Stage is located.
There are a few Burbank Winter Wine Walk tickets left, but they're definitely moving as quickly as a flake of snow drifting to the ground below. Best investigate, if you're tempted, and then consider whether you'll wash your ugly Christmas sweater or not before pulling it on again for the first time this year.
Or have you already worn it in 2017? In November? October? Earlier?
We know. Sometimes the holidays just can't come quickly enough.
Copyright FREEL - NBC Local Media