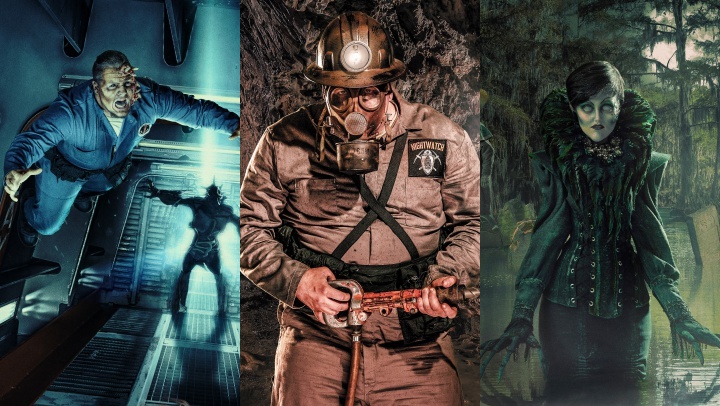 What to Know
Knott's Berry Farm
Buena Park
Sept. 20 through Oct. 31, select nights
New Halloween-themed attractions sprout around Southern California each fall like so much poison ivy, drawing devotees of the dastardly and wicked with promises of ghosts, monsters, and thrills delivered by the undead.
And while all of this novelty is creepily commendable, and truly emblematic of our region's attachment to the eekiest season of the year, there are a few long-runners out there, the grand dames of ghoulishness that continue to show the local young'uns, the new kids on the terrifying block, how haunting is done.
Without quibble, Knott's Scary Farm wears such a crown.
The Scene
What to do, where to go and what to see
It's celebrating its 46th season in 2018, which, when you add up all of the screams, jumps, and starts, is a whole lot of scaring of a whole bunch of Halloween-loving Southern Californians over the decades.
We're speaking, of course, about the seasonal, oh-so-ghostly gown worn by Knott's Berry Farm, after dark, and the historic theme park will again done that frightful frock over 25 nights in 2018, running from Sept. 20 right through to the most frightful night of all, Oct. 31.
So what's fresh for 2018?
Knott's just drew back the curtain on the debuting mazes, shows, and a new scare zone on Thursday, Aug. 30. "The Depths" will send you into caves where "ancient creatures" may be around every corner, while "Dark Entities" is set aboard a space station where an "extraterrestrial mutation" is on the prowl.
Eep.
A new Scare Zone, underneath the Silver Bullet ride, will be home to "gothic creatures" who exist in a "Forbidden Lake" (eep again). And a show themed to B movies will pop up, for the first time, at the Charles M. Schulz Theatre.
As for returning fan favorites from the maze realm? There are so many to choose from, if you dare, monster mavens. "Pumpkin Eater" will be back, and he's as tall and as terrifying as you remember, while "PARANORMAL, Inc." ventures inside a haunted hospital.
There are 14 haunted attractions in all, which means that, to do absolutely everything, you should arrive when Knott's Scary Farm opens and stay through to close.
But better yet? There's a season pass, should you want to visit this farm o' fear over several nights, which will ensure you get to see every maze (not always easy to pack in over one evening, given the large number of things to do).
To check out all of the ticket options, nights, and times, get brave, get bold, and enter the world of one of our area's most venerable and wicked seasonal must-dos now.
Copyright FREEL - NBC Local Media