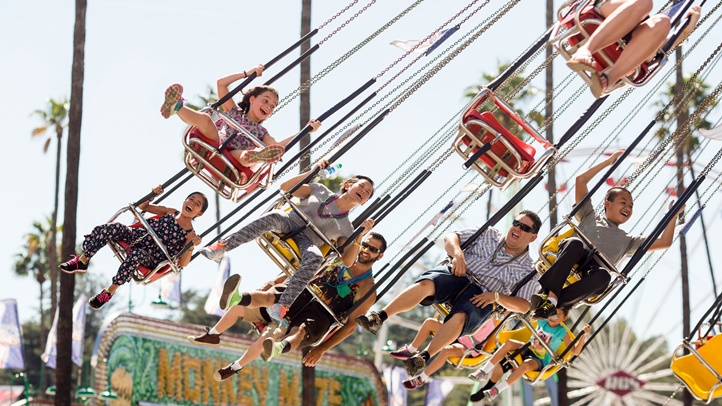 The only tears one should see at the county fair are tears of excitement, the sort of sobbing one might do when a favorite band takes the stage, or you pet an especially cuddly piglet, or you finally, finalllllly win that blue ribbon for your prized apple bread.
Tears, though, about a fair coming to its posted and necessary end? Well, the multi-week spectaculars do have a pretty predictable way of wrapping up, though fans may wish, touchingly, that a county fair could remain permanent, and always open, and always fun, like in a magical storybook.
Which is all to break the news that, yes, the LA County Fair is heading into its final weekend. The Ferris wheel only has so many revolutions left in 2017, the pigs only have so many squeals still to squeal, and you?
The Scene
What to do, where to go and what to see
You better get on that bacon Nutella bread you swore you'd try, ASAP, or the Krispy Kreme doughnut chicken ice cream sandwich, or both, if you're feelin' it.
The last day of the 2017 run, which covered just over three weeks, is Sunday, Sept. 24. But the boxes and packing crates definitely will not be out as the fair winds down, nor will it even be winding down, at all, right through to its last hour on Sunday evening.
On the weekend schedule? Chicago is rocking into Saturday night, while Migos is the headliner for Sunday. The Magical World of Dragons, Wizards & Beasts will delight those eager to be enchanted, and the Polar Ice Rink at The Igloo will keep fair goers chilled out.
In short? The "everythingness" of the LA County Fair is still in glorious flower throughout its last hurrah, so get your Pomona-focused merriment in before the rides are stowed, the French fry fryers are loaded up, and the ribbon-winning quilts are returned to the talented people who made them.
Hang tight, though, fair fans: California's colorful county fair season begins again in less than half a year, in Indio, in February 2018, with the Riverside County Fair.
Copyright FREEL - NBC Local Media