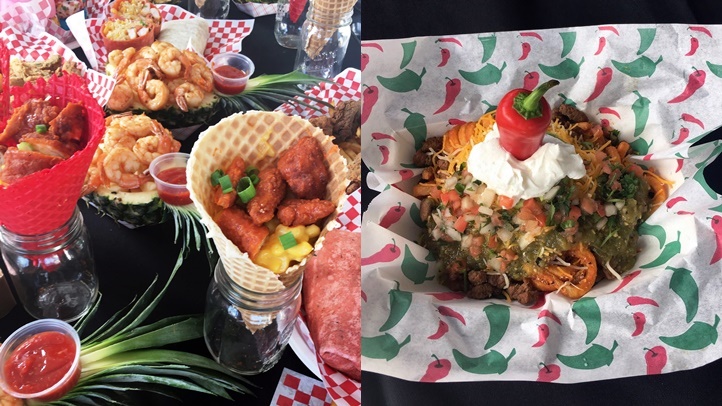 What to Know
Aug. 31-Sept. 23, 2018
Pomona
Special LA County entry day on Sept. 2; admission is $6.60
Getting your kicks on Route 66?
It probably involves a little adventure, some funky sightseeing, and those all-important, tum-filling roadside eats, the haute highway cuisine we crave when we're out happily rolling along the Mother Road.
And when the Mother Road becomes the fun focus of the country's largest county fair, you can bet a lot of those quintessential, oh-so-yummy foodstuffs'll make an appearance, and they'll be rocking a price tag that pays tribute to the road's iconic numbers: 66.
The Scene
What to do, where to go and what to see
Which is all to say this: Prepare to hit whatever various roads'll take you to the Fairplex in Pomona, and the LA County Fair, for the fair's many food vendors'll feature special menu items priced at $6.60 during the 2018 extravaganza.
The reveal was made on Monday, June 4 at a special fair preview detailing the event's strategic plan.
What to watch for when the fair debuts on Aug. 31? There's a chicken and mac 'n cheese delight, served in a waffle cone, at Chicken Charlie's, and, you bet, it'll rock that $6.60 price.
And over at Spectra? Prepare for some fiery fries, loaded with Hatch chile and carne asada.
The price? Say it with us now, or sing it, if you like: $6.60.
But the $6.60 specialness doesn't just extend to the edibles. If you're a resident of LA County, you'll walk into the fair on Sept. 2 for the low, low price of, wait for it, $6.60
That's the Sunday of Labor Day Weekend, so proceed with the calendar-marking now.
Once you're inside, and regardless of the day you attend — the fair runs through to Sept. 23, do note — you'll toodle by several more Route 66 displays and references, including an attraction called "Get Your Kicks on Route 66 — Explore All 8 States."
Nods to every state that Route 66 runs through will be included in the attraction, via "replicas of iconic stops" along the "2,448 miles of America's Highway, from Chicago to Santa Monica."
And, yes, you're correct: Route 66 is quite close to the Fairplex, meaning you can drive some of it before or after eating your $6.60 treats, seeing the Route 66 exhibits, and entering the fair for $6.60, if you're a resident of LA County and you visit on Sept. 2.
Good fair-obsessed people of Southern California, we're less than a fourth of a year away from this mondo event. Best start humming that ol' Route 66 ditty now as you plot your course for the 66-iest spectacular around.
Copyright FREEL - NBC Local Media