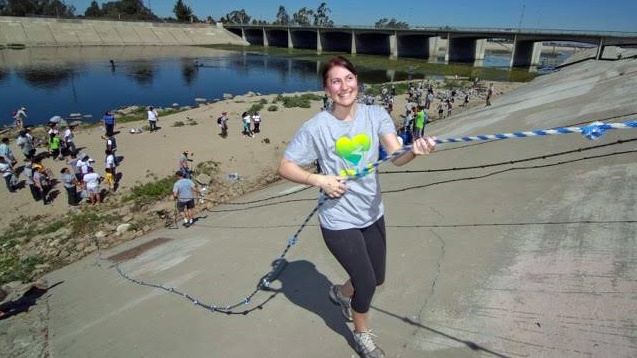 While Southern California might be accurately described as an incredibly huge place with oodles of people in it, it is notable when 10,000 of those people band together to address a common concern.
In short? That's no small potatoes on the grand scale, 10,000 people, nor is the place they gathered at small potatoes, either, a place they wanted to help.
It's the Los Angeles River we refer to here, and 10,000 volunteers did turn out over three April Saturdays to de-junk it, de-tire it, de-shoe it, and de-everything-that-shouldn't-be-in-the-river it.
The Scene
What to do, where to go and what to see
Now that the pitch-in string of April Saturdays has wrapped for another year, curious SoCalers want to know the whole what-for. As in, what exactly was found in our wending urban waterway during the 28th Annual Great LA River CleanUp: La Gran Limpieza?
The headline is this: A whole heck of lot. Gobs. Masses. Lots o' litter. The previous record was broken, in terms of the amount of litter and trash gathered, so best be prepared to gawp: "(O)ver 100 tons of trash from 14 sites along the length of the LA River" was the humongous haul.
The cleanup's spotlight stayed mostly on the areas deemed "soft-bottomed and green," and organizers noted that, after our extra-rainy wintertime, a spiffy-up was more than required, thanks to the "additional trash" that flowed into the greener parts of the river.
As for the weirder items? The Friends of the Los Angeles River, or FOLAR, note that "car parts to bathtubs to a giant Styrofoam head" all made the unusual list of junk pulled out.
"...(S)hopping carts, plastic bags (fewer every year), snack wrappers, cups, and mattresses" were among the more common items that are seen each year.
Some 200 volunteer groups pitched in, and people beyond Los Angeles stopped by to help, primarily from other parts of California.
But the bulk of the volunteers call Southern California home, the region where the lovely LA River flows, a waterway that was recently relieved of an astounding 100 tons of trash. It surely feels lighter, as do the volunteers, who all must feel a little light of heart for such a dig-in, do-good deed.
Copyright FREEL - NBC Local Media