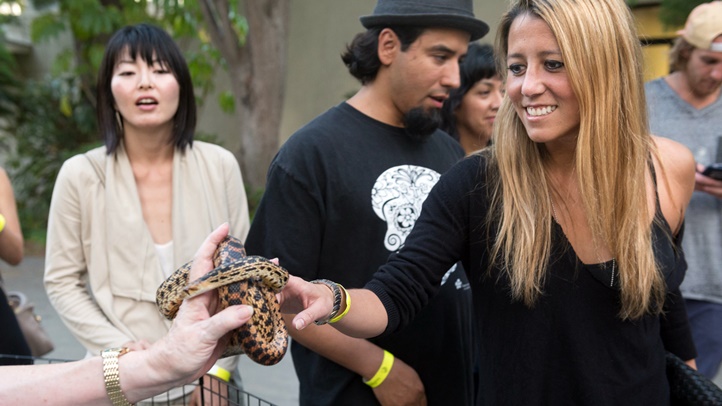 Summertime at the Los Angeles Zoo? You'll want to show up with your sunblock well applied, and you'll of course keep hydrated, and you'll completely understand when you find your favorite beastie taking a mid-afternoon snooze in the shade of a big tree.
But something else is hot, like the sun, at the Griffith Park animal park when the warmest season arrives, and it actually has nothing to do with the sun, daytime, or standing in the direct rays of our nearest star.
It's all about a trio of special evenings called Roaring Nights. True, the LA Zoo does open after sundown on occasion, like around the holidays for Zoo Lights, but Roaring Nights is full-on, bare-the-arms, keep-cool summertime enjoyment of the classic June-to-September sort.
The Scene
What to do, where to go and what to see
And each of the three parties has a theme. Be there on Friday, June 23 for a '60s Summer Safari, go country on Friday, July 21, or revel in an '80s-to-'90s vibe on Friday, Sept. 15.
Some common denominators? Well, critters of all sorts, of course, since the zoo is their home turf. Educational talks from keepers, as well as "special animal encounters," will be centerpieces at the June 23 happening, an evening that will include "an expanded route" near the animal habitats (the route will be open from 6 to 8 p.m.).
Live music from Woodie and the Longboards, as well as Detroit Nights, and spinning sounds from DJ Johnny Hawkes, provide the soundtrack among the chirps and roars of the lush setting.
Given the hour, you might expect to find some grub, and your expectations shall be met: There will be a number of food trucks, as well as full-service bars.
Oh, and games, too, if you need to work off some of the week.
It's an all-ages party — Minions from "Despicable 3" will make a cameo — and it continues to highlight the zoo's "ZooLAbration," an ongoing celebration in honor of the roar-filled, chirp-chirpy destination's 50th anniversary.
True, the zoo's residents do generally like to tuck up come night, or at least many of them choose to trundle to bed, meaning whatever comfy tree branch or soft bit of leafy loveliness they naturally prefer.
But some'll be out and about, with the keepers, so keep your eyes peeled, and your evening enjoyment set to "high."
After all, we're more likely to encounter the zoo under sunshine, not moonlight, on most days of the year, making Roaring Nights a rarity on the critter-loving calendar.
Copyright FREEL - NBC Local Media