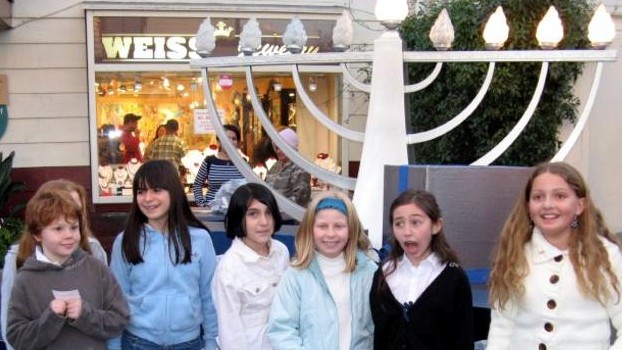 The shelves are stocked with latkes and chocolate coins -- one of the holiday candies we most look forward to seeing again -- and the menorahs, tall and taller, are in place around Southern California. The first night of Hanukkah is nearly here, and the celebrations and songs are set to begin. Here are a few festivities in Los Angeles:
The Original Farmers Market: The landmark at Third & Fairfax gets a lot of love over the spirited building of its giant LEGO menorah, but there are many reasons to like this true community gathering. Songs, games, and all of those delicious and traditional Hanukkah foodstuffs for sale inside the historic market round out the celebration. Plus? A cantor soloist, too. Everything starts around 2:30 p.m. on Sunday, Dec. 9, with the menorah lighting ceremony happening at 5 p.m.
More Lightings: Winterlit in Santa Monica will have three menorah lightings on Dec. 8, 10, and 11, plus a festivity on Sunday, Dec. 9. The lightings are each night at sundown, while the Sunday morning party starts at 10 a.m. Downtown Burbank has a 10-foot menorah near the AMC. A party on Saturday, Dec. 15 includes latkes and a kids' choir. And Universal CityWalk celebrates the Festival of Lights on Sunday, Dec. 9 starting at 6 p.m.
The Scene
What to do, where to go and what to see
Skirball Cultural Center: The Center's annual Lights of Hanukkah Family Tour runs throughout the multi-day holiday each year, and is well-worth a visit. Lamps that are in the Skirball's collection and dreidels are part of the tour, as are shared stories and information on the history of Hanukkah. The tour is part of your Skirball admission. There are a few dates coming up, including Saturday, Dec. 8 and Sunday, Dec. 9.
Copyright FREEL - NBC Local Media