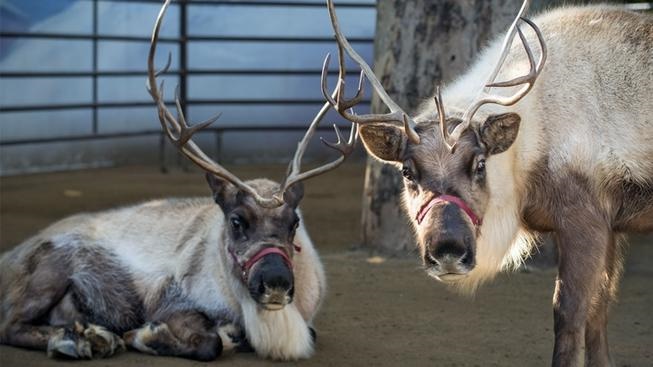 What to Know
Through Jan. 6, 2019
Closed Dec. 25
Included with zoo admission
If a person can "leg it" in a certain direction, and put "feet to sidewalk," and "find their roll," we will also assert that "hoofing it," or "hooving it," if you prefer, is entirely acceptable.
Especially when you're off to see splendid, furry, antler-rocking critters that, yes, do boast hooves.
Should such a nice notion be-hoove you, then best fly, like the beasties that lead Santa's sleigh, directly for the LA Zoo and Botanical Gardens, where Reindeer Romp is now romping.
The Scene
What to do, where to go and what to see
Well, reindeer, like all living creatures, aren't always in mid-romp. You might catch one snoozing, or chowing down, or enjoying the breeze as it flitters by, ruffling reindeer fur.
But the entire experience is a bit of a romp, especially since it only happens once a year, to coincide with the holiday season. And Reindeer Romp is staying rompful, right through to Sunday, Jan. 6, 2019, with a day off on Dec. 25.
Which makes sense, since reindeer generally need their well-deserved rest on the 25th day of December.
While you can see the reindeer every day of their zoo stay, weekends get rather more activity-filled, with a craft station devoted to the fashioning of antlers, twice-a-day keeper talks themed to the reindeer, and lots more.
So hoof it in this direction, to get the reindeer-delightful details on this educational and adorable annual visitation.
Copyright FREEL - NBC Local Media