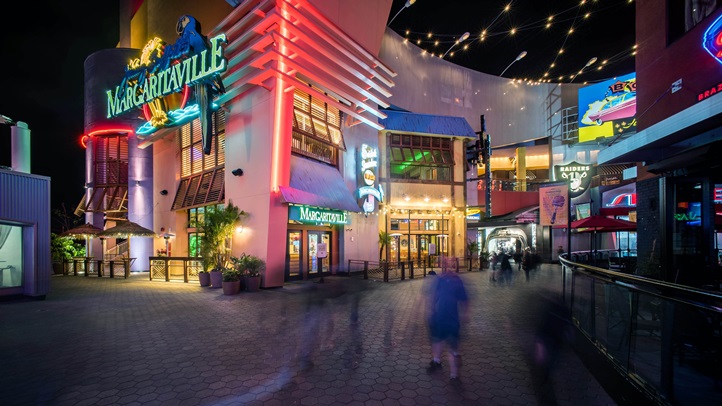 "It's 5 o'clock somewhere" is a phrase that is, at this moment, being uttered by one friend, in earshot of another friend, as they try to determine whether or not they're going to indulge in a mimosa or glass of merlot or margarita.
The close-of-the-afternoon, start-of-the-evening hour is, in short, shorthand speak for finding libations and conversations down at the local tavern. Not to mention, it also serves as one of the best-known songs of the Jimmy Buffett oeuvre, too.
It's no surprise, then, that Jimmy Buffett's Margaritaville is a spot built around the "5 o'clock" concept. And it's no surprise, part two, that a new Margaritaville debuted, officially, on March 30 promptly at 5 o'clock, a choice that says the bar and restaurant thoroughly embrace a beachy, breezy, kick-back approach.
The Scene
What to do, where to go and what to see
An approach, mind you, that Mr. Buffett himself showed up to celebrate at the restaurant's grand opening at Universal CityWalk. "Hundreds of Parrotheads" were on hand to hear the singer-songwriter perform and welcome the restaurant, the first Margaritaville in California.
Inside? It's all ocean-close aesthetic all the time, with "palm trees, thatched enclaves, island music, and surboard tables..." lending the foamy, briny look to the interior. And played-live tunes from the house band keep the steps-from-the-shoreline sounds flowing.
And, yep, there's a 5 O'Clock Somewhere boat drink on the menu, as well as a Who's to Blame sip, too, as well as a roster of various margaritas. The food side of the menu includes LandShark Lager Fish & Chips, Jimmy's Jammin' Jambalaya, and Cheeseburger in Paradise.
It's about 16 miles from Universal CityWalk to the beach, as the seagull flies, though longer, of course, if you're going to do that whole roads 'n highways thing (which you probably will, rather than hitching a ride with a gull).
But that sand-in-the-toes feeling can be found a bit indland, in Universal City, thanks to the newest entry at CityWalk, one that's sure to be a-rockin' at 5 o'clock each day, and at other hours, too.
Copyright FREEL - NBC Local Media