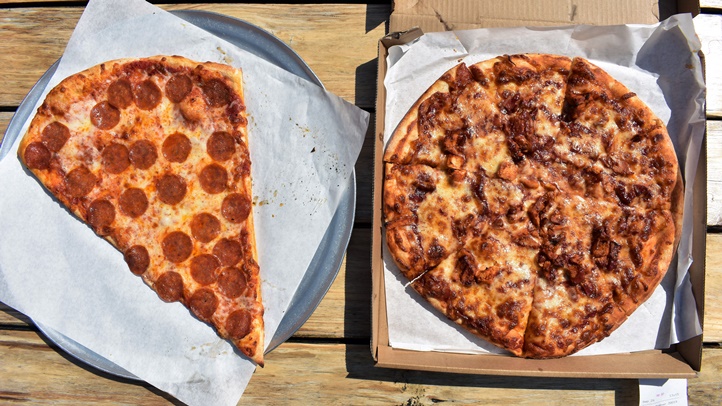 Pizza-based technology? The future-forward inventions that involve sauces, toppings, cheeses, crusts, and how they all come together, in fresh ways, on our plates?
It's an envelope-pushing industry that remains a few steps ahead of what the general pizza-craving populace is dreaming up.
One day you're fine with chowing down on a traditional crust when stuffed crusts are suddenly all the rage. And you were a-okay with a pizza that didn't have another pizza on top of it, but then the world discovered that double-decker pizzas essentially sent a single pizza straight into the duplication machine.
The Scene
What to do, where to go and what to see
Now Mickey's Deli Italian Deli & Pizzeria in Hermosa Beach is furthering the outward boundaries of pizza technology once again with its limited-time 20-inch pizza slice.
That's right: It's a pizza slice that's bigger than an extra-large pizza, as in a round pizza, as in the usual pizza you find inside the box.
The "20" Slice of Love" is available through Tuesday, Oct. 31. Cost for this cheeky, not-too-serious offering? It's $9.99, and toppings are an additional $1.50 each.
This is all in honor of National Pizza Month, which is October, which you already know, so don't assume that we're assuming you're unaware of that fact.
Mickey's, long a bustling South Bay favorite, has been in business since 1953, serving up pizzas, pastas, calzones, and hearty sandwiches. But will its colossal slice of sauce-topped, melty-cheese'd pie become a regular thing down the road? A special menu addition that returns from time to time?
Count on pizza tech to continue to surprise, bewitch, and fill our bellies as we continually face new tomorrows. New tomorrows that are, thankfully, always packed with pizza-amazing wonders.
Copyright FREEL - NBC Local Media