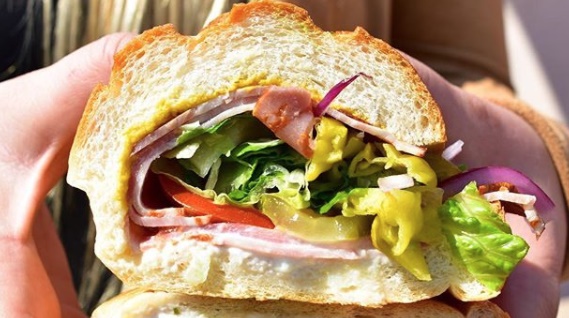 What to Know
Saturday, April 7, 11 a.m. to 2 p.m.
Hermosa Beach
Three yummy items for 65 cents each
If you've ever attended a queue-up, food-for-free deal at a restaurant, you likely know the delicious drill: You'll get the goodie, you'll munch, you'll depart, that's it, and have a terrific day.
Bye-bye.
The Scene
What to do, where to go and what to see
But Mickey's Italian Delicatessan and Liquor Store, long a staple of both the Hermosa Beach pizza scene and those South Bay restaurants that have become long-loved hangouts, is going to go rather further, in the fun 'n free department, in honor of its 65th anniversary.
That's happening on Saturday, April 7, and while there will definitely be a line for pay-nothing classics — the first 65 people queued that morning will receive a Mickey's Combo, a pizza slice or a Sauce Sandwich for free — the deals will continue even after the line is no more.
And here are those money-saving, appetite-pleasing deals: You'll be able to purchase those same three items, some of the most famous of the Mickey's Deli menu, for 65 cents each.
A piece of gooey, saucy, cheesy pizza? Six dimes and a nickel.
A Sauce Sandwich, one of the area's most venerable and spicy tummy fillers? Also six dimes and a nickel, or, if you prefer, two quarters and fifteen pennies.
And a Mickey's Combo, the meaty, onion-flavorful sandwich? That, too, will be 65 cents.
You know the date — Saturday, April 7 — now here's the time window to keep in mind: 11 a.m. to 2 in the afternoon.
That's right, it is a three-hour anniversary party, so to score that free sandwich or slice, be one of the first 65 people by 11 a.m., and to score a 65-cent sandwich or slice, be there during those hours.
One note? It's a one-item-per-person kind of day, both for the freebies and for the 65-cent meals.
Cool? Cool.
As if you needed more reason to try and be one of those first 65 people, the deli is throwing in a "free jar of Mickey's homemade sauce" to those early-line-uppers, in addition to their freebie 'wich or slice.
Mmm. Pasta that night, for sure, back at home.
Did you grow up swinging by Mickey's often, as a kid in Hermosa Beach? Do you still do so today?
Find all the info on the restaurant's 65th anniversary and how it is giving back to its pizza-craving, sandwich-loving customers.
Copyright FREEL - NBC Local Media