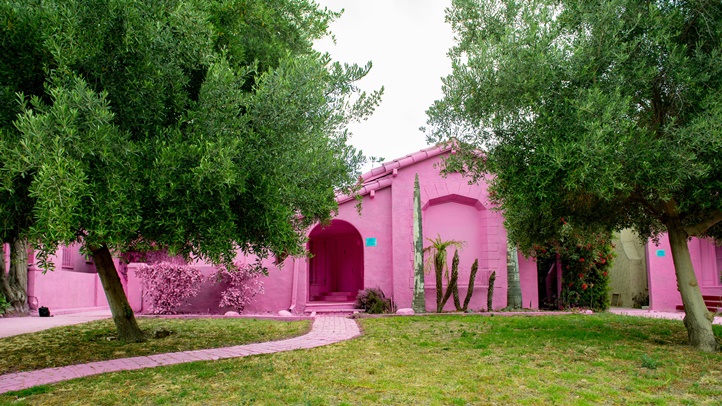 Not only are Southern Californians pretty used to outlandish architectural statements — we do live in a place that boasts Storybook homes, spaceship-inspired abodes, all-out castles, and modern glass cubes — we're even somewhat accustomed to seeing buildings covered in family photos or a single, startling hue.
Exhibit A? Artist Gary Sweeney recently placed vintage snapshots all over the exterior of his childhood home in Manhattan Beach before it was demolished.
And when the former Sunset Pacific Motel in Silver Lake went fully bright white, in the spring of 2015, it was a sensation, drawing shutterbugs who wanted to record artist Vincent Lamouroux's "Projection" before the moment passed.
The Scene
What to do, where to go and what to see
Now a few homes in the Mid-City area are sporting a fully pink coat, thanks to The Most Famous Artist and iMpermanence, "(a) citywide initiative utilizing development sites as temporary canvases which blend art, architecture, and urbanism."
The three houses, which have pink tile roofs and pink walls and, well, pink everything, for the most part, will soon be torn down to make way for a 45-unit apartment building from firm M-Rad, per LAist.
The "ephemeral conceptual art project," which seeks to inspire more dialogue about development in Los Angeles and its impact on the community, has stirred a lot of conversation, and controversy, in the surrounding area, as curious people swing by to have a look or snap a photo. Curbed LA reports that the nearby neighbors did not know about the project in advance.
The single-family homes and their current state of pinkness do inspire questions. Do the slated-for-demolition structures encourage passersby to ponder the ever-shifting urban landscape of our region? Are they novel, and noticeable, in a way that most tear-down homes are not?
The here-today-gone-by-July project is even inspiring events, such as over the weekend, on Pink Rosé Day, when Nomadica Wine and The Most Famous Artist used the bright backdrop for a beverage launch (Pink River Rosé).
But "ephemeral" is the key word, for the houses will soon meet the proverbial wrecking ball. The date with the demolishing crew is set to occur just down the road, before June wraps.
As for that address? The pink houses are located at 1500 Hi Point Street.
Copyright FREEL - NBC Local Media