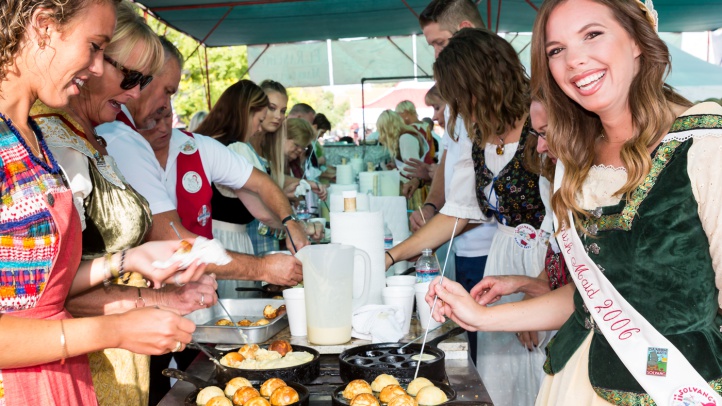 What to Know
Danish Days
Sept. 14-16
Free
Go on and quibble with your best bud over what city truly "owns" fish tacos, and what town can claim to be the capital of date shakes, and which Golden State spot rocks the burgers above all others.
There are going to be profound and strictly observed differences of opinion on such matters, but when it comes to æbleskiver, you and your friend are going to say the same place simultaneously: Solvang.
For while the doughy clouds of Danish-famous dessert-makery can and do pop up elsewhere, devouring one, two, or nine in the Danish Capital of America feels as right as a heap of powdered sugar settling into an æbleskive's yummy crevices.
The Scene
What to do, where to go and what to see
Solvang Danish Days are dancing through the middle of September, as is tradition, and if you're heading for the Santa Ynez Valley burg from Sept. 14 through 16, take note that æbleskiver will play a starring role.
How central is this all-important role? There's an Æbleskiver Breakfast on Saturday, and again on Sunday, for seven bucks a person ($8 if you add Danish sausage).
Also? A cooking demonstration, focused on the fanciful orb-like pancake puff, will take place on Saturday and Sunday from 11 a.m. to 2 p.m., outside the Solvang Restaurnat.
Also? There's an Æbleskiver Eating Contest, on both the 15th and 16th, and, for sure, you can participate, if you're up for the chewy challenge. On Saturday, Raina Huang, a competitive-eating champion, will face down a big plate of pastries, along with anyone else who joins the free contest.
By the by, you have five minutes to down those dough balls. Five. Minutes.
Parades, concerts, magic shows, and Hans Christian Andersen sightings are also on the big-as-a-windmill schedule, so decide how you're going to approach Solvang Danish Days, then start dreaming of all the sweet 'skivery you're going to savor while visiting one of California's prettiest, most Euro-cool towns.
Copyright FREEL - NBC Local Media