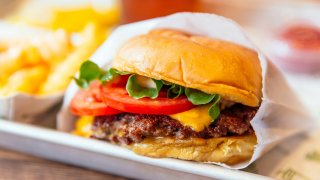 Just ketching up on your national food holidays before the summer season officially begins?
We'll wager that the ketchup-topped celebrations are catching your eye, nose, and various hankerings, including the flavorful festivity that arrives near the end of May each year.
It's National Burger Day we speak of, a foodie favorite that sizzles on May 28, which, yes, is a Saturday in 2022. (And Saturday, of course, is the burger-iest day of the week, or at least the time when people tend to break out the barbecue tongs in greater numbers.)
But wait: All of May is National Burger Month, and a number of places launched their deals early, including The Habit Burger Grill, which is giving Habit Burger Grill app members a complimentary Charburger, all May long.
If you're with a sausage-obsessed friend but you're longing for a hearty Haus Burger, one that's only $5 on May 28, best swing by your local Dog Haus to enjoy the gourmet frankfurterie's National Burger Day deal.
At Rock & Brews? If you purchase a hand-crafted entrée, you'll have the chance to buy an Oklahoma Smash Burger, complete with that tasty brioche bun, for $5.28 (yep, the price is an ode to National Burger Day's date).
If you're simply seeking fresh and flavorful sensations, new ways to approach the time-honored art of burger-based creation? There's a brand-new burger at Shake Shack, one that debuted just a few weeks back.
The Scene
Want to find new things to do in Los Angeles? The Scene's lifestyle stories have you covered. Here's your go-to source on where the fun is across SoCal and for the weekend.
The Bourbon Bacon Cheddar Burger, a "(w)hite-cheddar cheeseburger, made with fresh (never frozen) 100% Angus beef, topped with bourbon bacon jam made with Maker's Mark Bourbon, crispy shallots and ShackSauce on a toasted potato bun," is $8.49.
And just in time for May 28? Arby's just unveiled its first hamburger. The limited-time Wagyu Steakhouse Burger is $5.99, and is available through July.