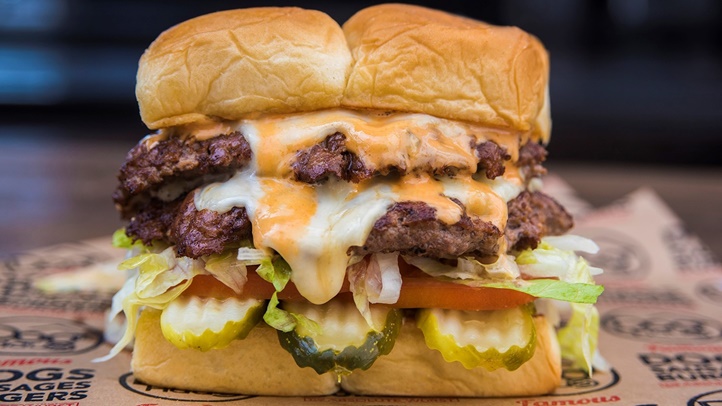 When you think of cheeseburger-themed holidays, and special occasions built around a bun, a couple of patties, and a slice or three of Swiss or Cheddar, you may find your mind alighting upon early January, and with understandable reason.
That's Cheeseburger Week around Pasadena, the acknowledged and accepted and respected birthplace of the cheeseburger, seeing as how it was invented at the Rite Spot in 1924 by a teen named Lionel Sternberger.
But hold up, because there's another cheeseburgery chance to celebrate the classic and filling foodstuff, and it arrived on Monday, Sept. 18. It's National Cheeseburger Day, and while a lengthy line-up of national chains, from Denny's to Johnny Rockets to Wendy's, have deals, add-ons, and holiday-type doings on, you can also find your Southern California specials, too.
The Scene
What to do, where to go and what to see
Dog Haus, which is known for its fancy frankfurters, also right by the patty, and its Sept. 18 event is all about upgrading your burger.
Just ask your server to make your burger a cheeseburger double, and hooray! You won't need to pay for the tasty upgrade, as it'll be "on the Haus."
No surprise, really, that the boutique chain is doing this, since Dog Haus was founded in Pasadena nearly a decade ago, and Pasadena is, as has been mentioned, the birthplace of the cheeseburger.
Farmer Boys, which has its HQ in Riverside, has a money-saver of a deal on for Sept. 18: Enjoy a Big Cheese for a buck. That's right, a buck, as in a hundred cents. Details? Find 'em here, then make your cheeseburger-craving way to your local FB.
And out at BurgerFi in Malibu? If you have a fiver, and change for tax, then you'll have a discounted, oh-so-delish cheeseburger on National Cheeseburger Day. Just be sure to show the Facebook post, or mention it when you order, to nab the deal.
Copyright FREEL - NBC Local Media