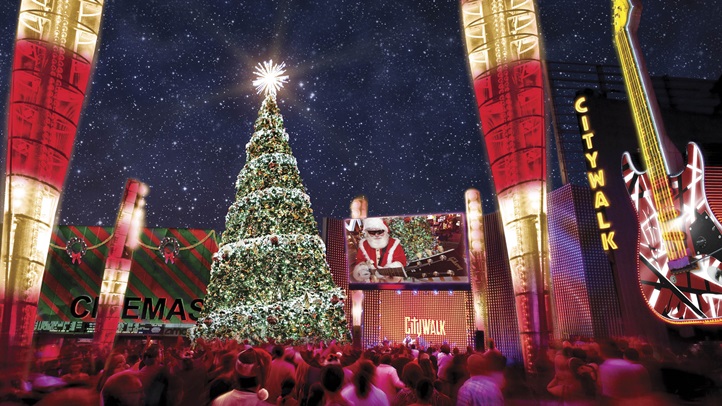 Do you have a person in your life, someone who is dear to you, a friend or loved one you'd like to give the world, or at least something they're needing at the moment?
Everyone but everyone would likely nod vigorously to such a question. But putting that wish out there, on behalf of the deserving person, and perhaps seeing it answered isn't always a path that's presented to us.
There is a path, though, of sorts, leading along Universal CityWalk and to The Wishing Tree. It's a path that leads to an online Wishing Tree as well, at NBCLA, and both are about connecting people who want to suggest a special gift or request for those people they adore.
The Scene
What to do, where to go and what to see
The Universal CityWalk Wishing Tree, as well as the one online at NBCLA, both open on Friday, Nov. 27. Visitors to both the Universal City destination and the site are "invited to pay it forward by making a wish for someone deserving."
The brightly decorated trees will stand at the 5 Towers area of Universal CityWalk from Friday, Nov. 27 through Tuesday, Dec. 22.
Eager to find out if the wish you made was selected? Tune into NBC4 News at 5 and 6 p.m. from Dec. 9 through the 23rd. NBC4 Weathercaster Fritz Coleman will make the nightly wish-granted announcement direct from Universal CityWalk.
"NBC4 is pleased to collaborate with our family at Universal CityWalk on The Wishing Tree and inspire a tradition of giving during the holidays," said Steve Carlston, President and General Manager of NBC4 Southern California. "The Wishing Tree aligns with the station's legacy of supporting the community through several philanthropic initiatives."
Making a stop at the CityWalk tree to drop off a dream on behalf of a deserving friend? Snap a photo or take video and tag it #NBC4You.
If you can't make it to Universal City during that time, you can pop by the NBC4 Wishing Tree page, starting on Nov. 27, and pay it forward, via a wish, for a special someone in your life.
If you can make the Universal CityWalk tree, best peruse all of the holiday doings at the attraction. The fun times include music, films, and a nightly snowfall from the day after Thanksgiving right through to Christmas.
Copyright FREEL - NBC Local Media