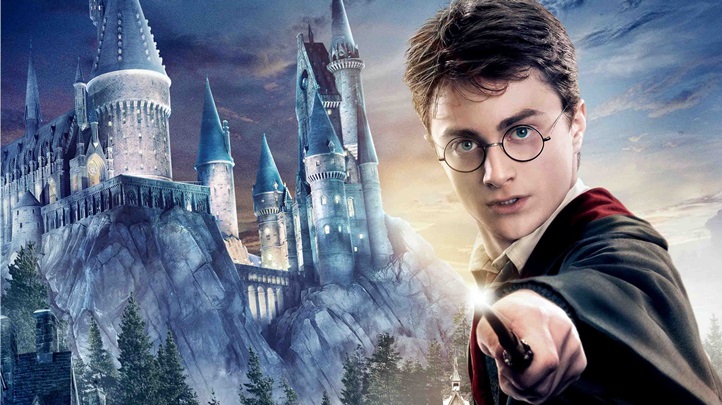 Prophecies, foretellings, and mysterious peeks into the future are enchanting elements in the universe of Harry Potter. But, of course, no wizard worth his wand would want refuse to peer into a talking mirror or crystal ball or other scrying device to see what's coming down the road, the better to prepare.
Likewise, Universal Studios Hollywood, which will soon draw back the drapery on the lavish and large-scale "Wizarding World of Harry Potter" experience, believes that every purveyor of the spellcasting arts needs a solid scrying device, the better to see what the "Wizarding World" will be all about.
Turns out your scrying device, dear wizard who is reading this magical missive, is currently in your hands, or upon the desk in front of you. For the theme park located in the wondrous land of Universal City has just unveiled the official site for "The Wizarding World of Harry Potter," a reveal that arrives several months ahead of the experience's big spring 2016 debut.
The Scene
What to do, where to go and what to see
Where can this otherworldly portal take you? Firstly, it can spirit you away to a land that isn't fully in existence yet, though nearly. You'll be able to take a virtual tour of the experience, visiting everything from Hogwarts School of Witchcraft and Wizardry to a bevy of sorcery-laden shops, like Filch's Emporium of Confiscated Goods and Zonko's Joke Shop.
Restaurants, too, may be seen through the veils and fogs, eateries like the Hog's Head Pub and Three Broomsticks.
The stout-of-heart may also want to turn their own broomstick for a "multidimensional thrill ride" preview, if they dare. "Harry Potter and the Forbidden Journey" is the "hyper-realistic 3D-HD" attraction, though a peek at Universal Hollywood's first outdoor coaster, "Flight of the Hippogriff," is also part of the fantastical fun.
Will you hear commentary from "Potter" icons such as Daniel Radcliffe and Emma Watson during your virtual tour? You shall. Will there be more tasty treats dotting your scrying experience, as tasty as an icy butter beer? Any foreteller would nod, sagely, that this is so.
You've got a half year yet, before the debut of "The Wizarding World of Harry Potter," dear spell scholars and practitioners of the paranormal studies. But time, as we know, is foldable. Your train awaits to a place that isn't fully here or not here, as of now. Intrigued?
Copyright FREEL - NBC Local Media