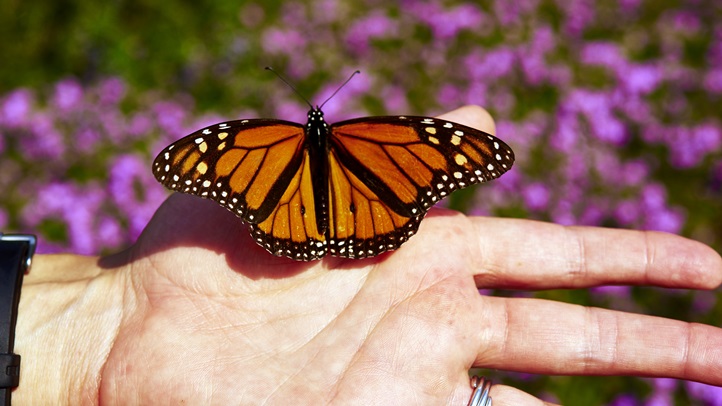 The spiders are on their way to the Natural History Museum of Los Angeles.
No, they're not clutching a tiny suitcase under each of their many arms, nor plane tickets, but they will make their dramatic debut, soon, at the museum's annual Spider Pavilion.
What do we mean by "soon"? Webs shall glimmer beginning on Sunday, Sept. 17.
The Scene
What to do, where to go and what to see
Before that, though? Another wondrous pavilion-based event must wrap for the year, a pavilion that involves flying insects that don't spin webs so much as flitter and flutter along the breeze.
It's the Butterfly Pavilion, a walk-through experience that houses a plethora of bright-wing'd, on-the-wind superstars. Superstars that we may study more closely in a pavilion setting, with the chance that, yes, a butterfly or two might even decide to alight upon your palm or arm.
But palm-alighting chances are ending for 2017: The final day for the Natural History Butterfly Pavilion is on Monday, Sept. 4.
That's Labor Day, a holiday for many, and if you're seeking some nature-based beauty, and an ethereal outing among the buckeyes and morning cloaks, flitter and flutter for the Exposition Park museum at once.
Yes, monarchs, too, make a showing, even before their traditional California migration season (which begins in October).
And what do we mean by "plethora"? Get stoked, bug buffs: There are "hundreds" of butterflies inside the pavilion.
That's considerably more butterflyage then even the most marvelous domestic butterfly garden, the sort of plot that's planted with the sorts of shrubs that attract the wing-pretty visitors.
The Butterfly Pavilion opened on March 19, but its nearly six-month run must come to a close, due to time, the season, and, yes, the spiders. Bid bye to the butterflies before they take that last 2017 bow.
Copyright FREEL - NBC Local Media